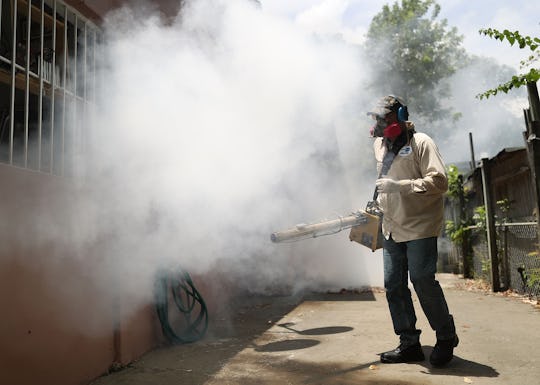 Joe Raedle/Getty Images News/Getty Images
When Will Zika Mosquitos Arrive In Los Angeles? No One's Quite Sure
For many travelers, and now a host of U.S. citizens, the Zika virus continues to be a major concern. The virus, which spread throughout the Americas over past year, has apparently now made its way to Florida. With fear of the possible spread in the United States, many are wondering if Zika will reach their hometowns. But when will Zika mosquitoes arrive in Los Angeles? No one's quite sure, but the more information on Zika and its spread gets disseminated to the public, the better.
On Monday, Florida Gov. Rick Scott announced that the Florida Department of Health is currently investigating a new case of Zika: According to officials, the case was not travel-related, meaning that it was likely the individual had contracted the virus locally. The Centers for Disease Control & Prevention had previously issued a travel warning last week for pregnant women headed to Wynwood, an area in north Miami.
"The Florida Department of Health has identified an area in one neighborhood of Miami where Zika is being spread by mosquitoes," a CDC announcement read. "This guidance is for people who live in or traveled to this area any time after June 15."
Since Zika doesn't generally present symptoms in most people who become infected, CDC Director Dr. Tom Frieden told CNN that Zika prevention practices, like insect repellent, should continue for weeks after a traveler returns home.
"With 40 million travelers to and from areas where Zika is actively circulating, many can come back who feel perfectly fine," Frieden said. "But the virus could be hitchhiking in their blood. That's why everyone who travels to one of those areas should use insect repellent for at least three weeks after they return."
Gov. Scott announced that the state will distribute Zika-related preparedness items like mosquito repellant, and Zika-related toolkits and materials to schools.
But what about a Zika spread to cities like Los Angeles?
Back in May, a CBS local station in Los Angeles reported that the Los Angeles Health Department had records of several women who had contracted the virus while traveling. The L.A. County Health Department reported that there were 13 Zika cases in the county, CBS reported. Four of the cases were pregnant women.
Since then, the State of California Health and Human Services Agency has reported that there have been 29 Zika cases in L.A. County, but that zero of them had been locally acquired. It's unclear whether the United States will see more locally-acquired Zika cases, but nationawide, the CDC has reported six total as of Aug. 3.
Zika, which is transmitted by mosquito bite and sexual contact, can cause microcephaly and other severe birth defects. It continues to be important, particularly for women who are pregnant or plan to be (and their male sexual partners), to understand its causes and best prevention practices.