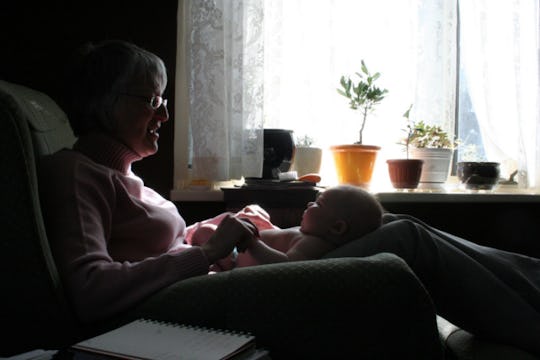 Courtesy of Joelle Barron
When Your Co-Parent Is Your Mom, This Is What Raising A Child Looks Like
When you listen to the other women with kids at play group, you'll hear a lot of, "We decided to go with cloth diapers," or "We just started her on solid food." That "we," for most, is effortless; everyone knows you're talking about you and your partner. Though when I tell another mom that, "We just bought a new Pack n' Play," or "We just can't get her to sit still for diaper changes anymore," I'm not talking about a partner. I'm talking about my co-parent. I'm talking about my mom. 
When I found out I was pregnant, I had no partner; my mom was the first person I called. We've always been close; I'm her only child. Not long after I gave her the news, she was on a plane, on her way to Vancouver from Fort Frances, Ontario, the town where both of us were born and raised, a place where I had never envisioned raising my own children. She stayed with me for a couple weeks. We slept in my bed together, like we did for the first several years of my life. Already, we were speaking in "we". Already, this baby felt like it was not just mine, but ours. 
After we (there it is again) decided that it would be best for me to move back home, my mom packed up most of the contents of my apartment by herself, because I was too sick to move. She paid for the van that took my belongings on the 1,700-mile journey to Ontario. She drove the two of us, as well as my 70-pound Great Dane/Lab cross, the same distance across the country.
To say that my mom has sacrificed a lot for me over the years would be a gross understatement. With the birth of her grandchild, she was about to do it again.
Growing up as an only child, I never wanted for attention, and my parents devoted a huge amount of their resources to making sure I would be able to get whatever education I wanted, when the time came. So I went and got two fine arts degrees.
My parents never treated me like a burden, but I always felt like one, anyway. I was raised Catholic, which gave me a lot of guilt issues; I feel guilty all the time, about everything from forgetting to vacuum to having sex. I was never more proud and relieved as when I didn't have to rely on my parents for financial support anymore. The guilty weight was lifted.
Then I got pregnant, and moved home, and it was like I was back in high school, minus the baby part. I was living in their house, eating their food, using their money to buy maternity clothes. All my savings had been eating up by exorbitant Vancouver rental prices, which I was paying by myself after my ex moved out. I was relying on my parents completely, and I was finding it hard to see a way out. The guilt came back, big time.
Throughout my pregnancy, my mom was my one and only support. She's a retired registered nurse (an RN), as well as a certified herbalist/natural medicine expert. She took care of me. She made me special herbal tea; she took my blood pressure. She cooked me buttermilk pancakes on request and went to the store at odd hours to buy foods I was craving.  During labor, she advocated for me. She stayed awake for three days, through my induction, difficult labor, and eventual C-section. When my daughter was finally born, my mom held her up to my face and said, "Here's your mama." When my breast milk took longer than usual to come in because of my c-section, it was my mom who drove to the grocery store at 8 a.m. for formula and bottles so that my baby wouldn't stop screaming out of hunger.
My dad wasn't a hands-on parent with any of his kids, especially in early infancy, and the same held true for his granddaughter. A month after my daughter was born, he left to spend the cold winter months in Texas. With snow piled high around our little house and temperatures too cold to bring a tiny baby into, the three of us, my mom, the baby, and I, developed a routine. I'd text her from my room in the basement every morning at 3 a.m. She'd rouse herself from sleep, come downstairs, and take the baby for a few hours, so I could get some rest. We ate dinner at the table, with the baby in her rocker next to us. We watched The Office on my laptop while we ate because she'd never seen it before. When my kid was 8 weeks old and it was time for me to go back to work, my mom became my babysitter. When I had long shifts, she'd bring the baby to nurse during my lunch breaks.
Like any co-parents, we fight. We both get frustrated and take it out on each other. My mom is passive-aggressive; I just yell. We've had many discussions about how long she will continue to be my daughter's only babysitter. Sometimes, she sighs longingly about the days when she had time to work in her garden, to study her herb books. I'm always quick to offer to put my daughter on the list for daycare, or start looking for another sitter. "After she turns one," my mom will say. Then the next day, she'll tell me she wants to keep caring for the baby indefinitely. Part of me knows I should insist that she's done enough; usually I just nod, and decide to figure it out another day.
My mom and I have different approaches to parenting. My mom is extremely anxious; she hovers, frets, and coddles. She gives in, and puts up with. I'm watchful, but relaxed. I see bumps and tumbles as valuable learning experiences. When my mom is parenting my kid in a way that I wouldn't, I don't feel like I can chastise or correct her the way I might with a partner. My mom and I never sat down and had a talk about how "we" were going to raise my child. In fact, if you asked her, I doubt she'd agree that she's the other parent. But to me, there's no doubt about it.
I go through phases where I miss having a partner. But I'm a loner. I like having the bed to myself (funny how that's changed from when I was a child). I almost never long for another parent. If it wasn't for the guilt I feel for taking advantage of my mom's seemingly never-ending generosity, I might never miss having a partner at all.
You'd think that the profound realization of real love that comes with having a child would've shown me, once and for all, that I don't need to feel guilty. That my mom does what she does for me out of pure love; that I'd do the same for my child. My mom likes to tell people that the best thing about being a grandparent is that you get all of the fun parts of being a parent and none of the tough ones. It always makes me laugh, and it reminds me of one of the many things I love about my mother: she almost always sees the glass as half full, even if the reality is that she deals with a lot of the crappy, stressful stuff that comes along with being a parent. But she's just so happy and full of love that it's never really occurred to her to be upset about it.
It's sometimes uncomfortable, sometimes frustrating, but often joyful to have my mom as my kid's other parental figure. For now, I'm grateful for it. But I work every day to have enough to get my independence back, so my mom can see what it's really like to just be Grandma.
Images Courtesy of Joelle Barron