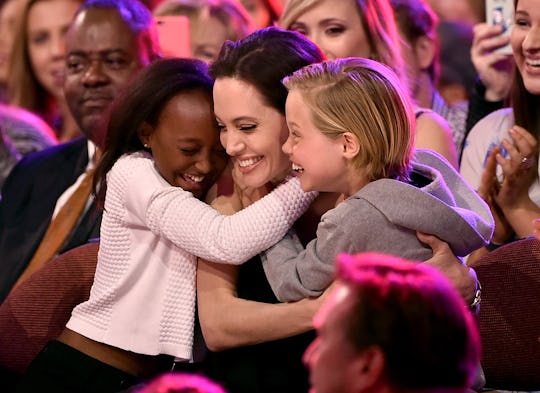 Kevin Winter/Getty Images Entertainment/Getty Images
Where Are Angelina Jolie & Brad Pitt's Kids Living? They're Currently With Their Mom
Admittedly divorcing her husband of 12 years "for the health of her family," Angelina Jolie is putting her children first. Just this Tuesday, it was announced that Jolie has filed for divorce from husband Brad Pitt, father to the couple's six children. Amid all this tumult, you might be wondering: Where are Angelina Jolie and Brad Pitt's kids living? Jolie has reportedly requested physical custody of the children, asking that they live with her.
Romper has reached out to both Jolie's and Pitt's reps for comment on their children and has not yet heard back. Jolie's attorney Robert Offer stated:
This decision was made for the health of the family. She will not be commenting, and asks that the family be given its privacy at this time.
Pitt gave a statement to People about the divorce and said the following:
I am very saddened by this, but what matters most now is the well being of our kids. I kindly ask the press to give them the space they deserve during this challenging time.
Jolie and Pitt have been together since 2004 and were married in 2014. Their brood began with Maddox, 15, whom Jolie adopted from Cambodia in 2002 while she was married to former husband Billy Bob Thornton. In 2005, Jolie and Pitt adopted Zahara, 11, from Ethiopia. Shiloh, 10, the couple's first biological child, was born in 2006. The couple then adopted Pax, 12, from Vietnam in 2007. One year later, Jolie gave birth to twins: Knox and Vivienne, 8.
Though Jolie is requesting physical custody of her kids, she has asked that Pitt be given visitation rights. Thus, Pitt would continue to have legal custody of the children, though he would have no physical right to them. TMZ reports that sources close to Jolie and Pitt insist that Jolie's reason for seeking divorce "has to do with the way Brad was parenting the children," saying Jolie "was extremely upset with his methods."
Jolie's manager Geyer Kosinski told E! News that "Angelina will always do what's in the best interest of taking care of her family," affirming Jolie's decision to seek custody. As Jolie and Pitt both seek privacy in order to reason through their separation, it's obvious that Jolie will continue to prioritize her children; they've remained first and foremost from the very beginning and, regardless of the unpleasantness of a very public divorce, Jolie's support system seems to fully trust her ability to handle it.