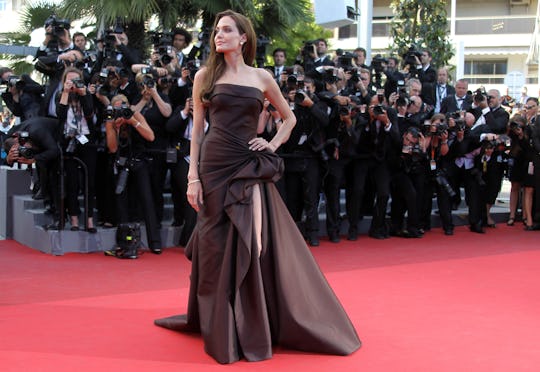 VALERY HACHE/AFP/Getty Images
Where Are Angelina Jolie's Kids From? The Actress Is Raising a Truly Global Family
Anyone who has followed the off-screen life of actress Angelina Jolie could probably guess she doesn't play when it comes to her babies. From a preventative surgery to decrease her risk of getting cancer, to her extensive humanitarian efforts, and now reports that her marriage to Brad Pitt is ending over his behavior around their six children, Jolie, by all accounts, is fiercely protective of — and crazy in love with — her kids. Where are Angelina Jolie's kids from? Hers is a truly global family.
Jolie gets a lot of flack about adopting so many kids from all over the world. She's so famous there's really nothing she could do that wouldn't annoy millions of people. But the love she and Pitt have both expressed for their children in so many interviews is lovely and touching, which makes some of the recent news very saddening. But, if it's what's best for their children, then hopefully everyone will be better off eventually.
All of the six the family's kids share both of their parents' very famous, bold names, "Jolie-Pitt," according to CNN.
Maddox Chivan
Maddox, now a 15-year-old, was adopted by Jolie from Cambodia where he was born on Aug. 5, 2001. Jolie became inspired by Cambodia in 2000 while filming Laura Croft: Tomb Raider and joined the U.N. High Commission for Refugees in 2001 as a Goodwill Ambassador, according to the Los Angeles Times. While playing with a group of kids at a Cambodian school, Jolie had a realization.
"It was suddenly very clear to me that my son was in the country, somewhere," Jolie told the Times. She adopted Maddox when he was 7 months old in March 2002.
He was adopted by Pitt in 2006, according to CNN.
Pax Thien
Pax, whose name means "peace," was born Nov. 28 2003 in Vietnam, and adopted from an orphanage on March 15, 2007 by Angelina Jolie when he was just 3 years old, according to People. Because of strict adoption laws that didn't allow unmarried parents to adopt children, Jolie adopted Pax herself.
After the adoption was complete, Jolie proudly explained to People, "You can imagine what courage it takes to be in all new surroundings, with new people and a new language," she said. "He is very strong."
Brad Pitt adopted Pax just a year later, according to CNN.
Zahara Marley
Zahara was Jolie's second adoption in 2006 when she was just 6 months old, according to People. Zahara was orphaned due to AIDS. At the time of the adoption Jolie was already in a relationship with Pitt, but wanted to make it clear she was making the decision to parent Zahara all on her own. "(Zahara's adoption) has nothing to do with (her) relationship with Brad Pitt," a source reportedly told People at the time. "People are going to try to say it's about their relationship. It's not. Angelina's adopting as a single mother, and she wants that emphasized."
Zahara was adopted by Pitt in 2006, according to CNN.
Shiloh Nouvel
The 10-year-old was the first of Jolie and Pitt's biological children and was born May 27, 2006 in Namibia, according to CNN. Jolie turned the birth into an opportunity to shed light on the lack of basic medical services available to women in developing countries.
"I went to a hospital in Namibia, where I was having my daughter, and I was in breech. I needed a C-section, and I knew I was in breach because I had had the money to have an ultrasound," Angelina said in a recent BBC Radio interview, according to Just Jared. "But I found even the local hospital with many, many women – and this was a good hospital – did not have an ultrasound machine."
Knox Leon & Vivienne Marcheline
The babies of the family, twins Knox and Vivienne, were born on July 12, 2008, CNN reported. The babies were born in Nice, France, according to People in what sounds like a magical, fairy tale setting. The doctor who performed Jolie's C-section also added that Pitt was the perfect new father-to-be during the delivery, and even cut the babies' umbilical cords.
"He was ... perfectly calm, totally determined, very pleased to be at the birth of his children, very moved and very emotional," Dr. Michel Sussmann, told People just after the babies were born.