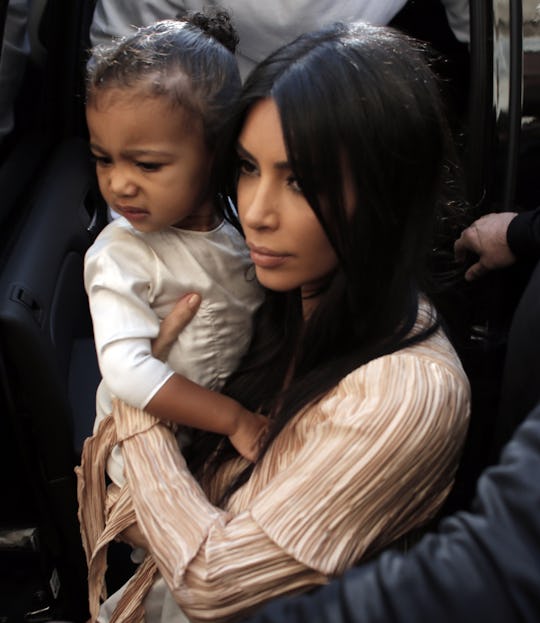 AHMAD GHARABLI/AFP/Getty Images
Where Are Kanye West's Kids? Nannies Are Looking After North & Saint
It's an understatement to say that Kim Kardashian has not been having the easiest time lately. In October, the reality star was held at gunpoint and robbed of millions of dollars of jewelry in her private hotel room in Paris, and now, only a month later, her husband, rapper Kanye West, has been hospitalized for exhaustion in Los Angeles following reports of "erratic" behavior, a slew of on-stage, mid-concert rants, and a canceled tour. Some have speculated that West has been struggling with ongoing mental health issues, including paranoia, and it's been reported that Kardashian has been by his side since he was admitted. But where are Kanye West's kids? According to People, North and Saint are being cared for by the couple's nannies so that Kardashian can make West's recovery her top priority.
While Kardashian and West's nannies don't make an appearance on her family's reality show, it's not at all surprising that they play a big role in assisting the famous couple with their childcare duties. After all, both Kardashian and West are in-demand stars who travel often for work, and pretty much every parent understands that childcare is, in itself, often a full time job. According to People, the couple left their two children with nannies even before West was admitted to hospital, since he was busy with his tour schedule, and Kardashian had flown to New York City to attend the 2016 Angel Ball that night — her first public appearance since the Paris robbery. Once West was hospitalized, Kardashian canceled the New York appearance and flew back to Los Angeles, and their nannies have been filling in to ensure that the children's lives have been as unaffected as possible by the unforeseen medical emergency since then.
It definitely sounds like a good thing that the couple has been able to shield their children from most of what has been going on lately. According to Entertainment Tonight, a source said that both Kardashian and West have been under a lot of pressure lately, though West in particular had a lot on his plate:
It was a combination of a lot of issues: stress, anxiety, paranoia. He just broke. the There have been signs recently of him just overwhelmed. He has a lot going on: multiple fashion lines, the tour, his business, being a father. And then the Paris incident also threw him for a big loop. His mother passed away this time of year. So, there is a lot going on right now. Kanye hasn't been himself for a while.
The unnamed source also told Entertainment Tonight that West had been in need of some down time with his family following the Paris robbery, but that he had too many obligations to actually take it:
Before Paris, there were a lot of things Kanye committed to work wise that he couldn't cancel. All he wanted to do was stay home with Kim and the kids, and he couldn't. He realized he couldn't do it all and just broke.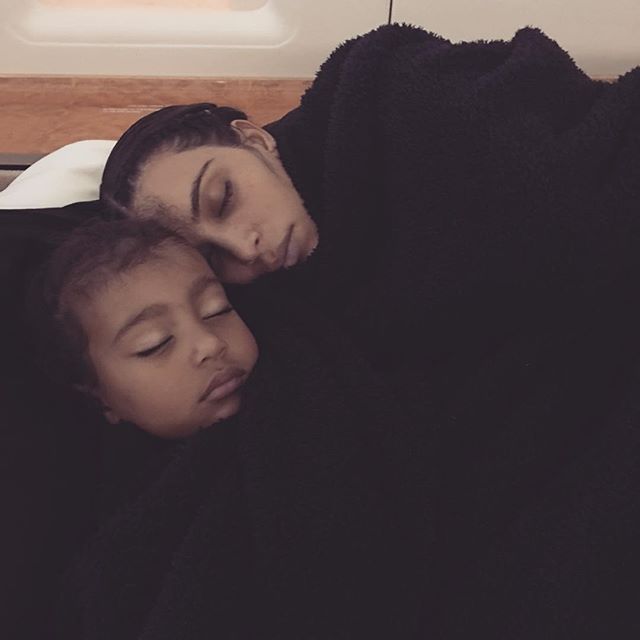 According to E! News, Kardashian spent Thanksgiving morning with West in the hospital, before joining up later with their children and family for dinner. A source told E! that North and West were just under the impression that their dad was "away," which is probably the most appropriate explanation to give to such young children anyway. Since they're probably used to their parents working and traveling, it's unlikely that they'd have any reason to understand that anything is wrong.
In addition to their nannies, Page Six reported that Kardashian's mother, Kris Jenner, was also helping out by looking after her grandchildren. Jenner remained in New York City Monday night to attend the Angel Ball, as did Kim's sisters Kourtney and Khloe, according to The Daily Mail, but they have since all returned to Los Angeles. The famous family, including North and Saint, met up at Kylie Jenner's home on Thursday to celebrate the holiday.
There's no word on when West might be expected to be released from the hospital, but it sounds like he's got a great support system in his wife. A source told told E! News that Kardashian is "just holding things down like Kanye did for her when she needed support," and added that, "Kim is doing much better and is strong. This shall pass she believes."
For both Kardashian and West, there's no doubt that this is likely an incredibly trying time. But the couple has lots of help in their lives to keep everything running smoothly, and it sounds like that's allowed the couple to make sure that their children are being well cared for while they figure out their next steps.