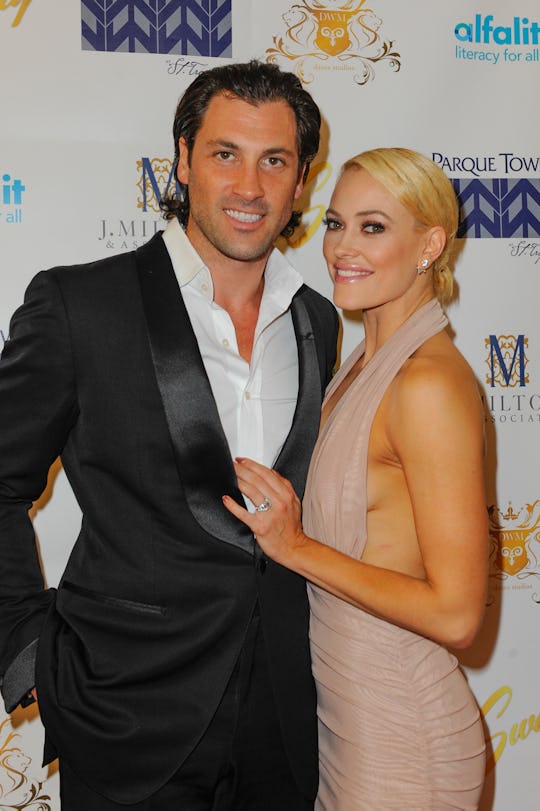 Sergi Alexander/Getty Images Entertainment/Getty Images
Here's Why You Won't See Maks & Peta On 'DWTS' This Season
With Season 27 of Dancing With the Stars set to premiere Monday night, fans may notice a lot of familiar faces. No matter which duo you root for, there's something magical about watching pros you know and love tear up the dance floor like nobody's business. It feels like a warm, tango blanket on a cold, dark night. With all our faves in one place, it's hard to ignore the void others left behind. Like, where are 'DWTS' pro couple Maks and Peta now? Living their best lives, that's where.
In case you've been living under a rock, DWTS alums Maksim Chmerkovskiy and Peta Murgatroyd, married and had a beautiful baby boy. According to Today, the two secretly married at New York City Hall a whole year before their big, public ceremony. You read that right. They got us good. If you've only just realized neither have been seen as pros on DWTS since Season 25, welcome to 2018. Chmerkovskiy's DWTS path deviated after a calf-injury during a Season 24 rehearsal with Glee actress, Heather Morris. It wasn't immediately clear whether Chmerkovskiy would return to the stage as he underwent various procedures to heal (and it was seriously cringeworthy to watch happen live). Meanwhile Murgatroyd cared for their firstborn son, Shai, and continued dancing through the season alongside Bachelor alum, Nick Viall. As told in a recap via E! News, the two were sent home in a double-elimination with Nancy Kerrigan and partner pro, Artem Chigvintsev, and that was that.
So what have the two been up to since then? A lot, actually. Though Chmerkovskiy didn't dance the DWTS all athletes season, that doesn't mean he stopped dancing. With 15 seasons on DWTS, he told MassLive.com he had other interests aside from DWTS, and, of course he does. He followed-up by adding he'd love to return as a judge but was "at a different point in his life" and didn't think he "could give it his all anymore." He, along with Murgatroyd and Chmerkovskiy's brother, Val (another DWTS alum), set off on a 50-show nationwide tour of their own, titled Confidential, in which they brought baby Shai along for the ride. Murgatroyd admitted traveling as a family of three had its own set of challenges. During a Hilton Honors members experience, she told People how hard touring with a child had been. "I didn't think it would be easy but I just am obsessed with my son, so I want to spend so much time with him." Chmerkovskiy chimed in adding, "It's a lot of responsibility — [making sure] he doesn't eat anything on the floor."
With baby Shai's second birthday approaching, Murgatroyd said she's ready to try for another. During an Extra interview with Mario Lopez, she revealed there may be even more babies in the future. "I would love three," she said. "The second one I would love to have very soon." To be clear, "very soon" is code for "in the next six months," Murgatroyd told ET back in August. And in case you're wondering, hubby Chmerkovskiy is totally on board with having another baby — or even adopting one — admitting to Lopez the process was "hard" but he's ready to get after it again. Talk about relationship goals.
Even though two of our favorite DWTS pros won't be on this season, it's clear Maks and Peta have a plan. Maybe it's having more babies. It could be another dancing tour. It may even be helping plan Val and fiancée, Jenna Thompson's upcoming wedding, bachelor, and bachelorette festivities which may or may not include Disneyland or Vegas. Either way, they seem to have it figured out and it's a beautiful thing.