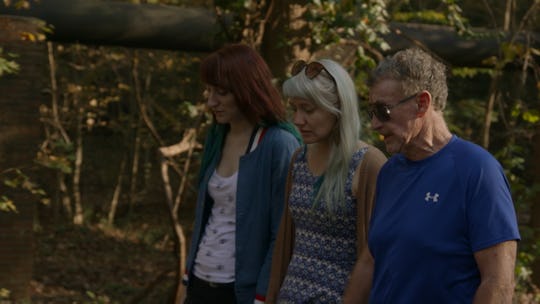 Netflix
This Is What Margaret & Martha Ratliff Have Been Up To Since 'The Staircase'
Michael Peterson's adopted daughters, Martha and Margaret Ratliff, were front and center in The Staircase. They always sat right behind their dad in the courtroom where he was being tried for the murder of his second wife, Kathleen. Though the docuseries checked in on the Peterson family over the course of seventeen years, the women never seemed to waver in their support of Michael. But where are Martha and Margaret Ratliff today?
Not much is known about their lives outside of the glimpses provided in The Staircase. The News & Observer reported that Martha had settled down in Colorado and Margaret moved to California, which meant both of them had decided to leave their home in Durham, North Carolina after their dad was convicted and sent to prison. Though neither young woman testified during the trial, they were both integral to the case, because the circumstances of their adoption were brought up by the prosecution to point towards Michael's possible guilt.
CNN reported that Kathleen had been found at the foot of the stairs in the Peterson home with seven lacerations on the back of her head, bruising on her arms that might have been defensive wounds, and fractured thyroid cartilage in her throat that may have been a sign of attempted strangulation. The defense team maintained that an accidental fall killed Kathleen, but the fact that the Ratliffs' biological mother died in a very similar way raised suspicions.
Michael and Patti Peterson had been living in Germany with their sons Todd and Clayton when they became good friends with George and Elizabeth Ratliff. George passed away in 1983, and Elizabeth not long after in 1985; she wanted the Petersons to care for her children in the event of her death. Strangely, Elizabeth's body had also been found at the bottom of the stairs. At the time, it was determined that a cerebral hemorrhage caused her fall, but during Michael's trial her body was exhumed and autopsied again. Assistant North Carolina medical examiner Deborah Radisch determined that "the manner of death in Mrs. Ratliff's case was homicide," per CNN.
Michael had been the only person present in the house when Kathleen died, and it had long been speculated that he was also the last person to see Elizabeth alive. However, his attorney David Rudolf denied that when speaking with the News and Observer, saying:
There is an assumption that Mike Peterson was the last person to see Elizabeth Ratliff alive, and there isn't a scintilla of evidence in the file that establishes that.
Elizabeth's alleged murder remains unsolved, but the coincidences in both cases might have swayed the jury. Though Martha and Margaret struggled with allowing their biological mother to be exhumed, the information didn't alter their opinion of Michael. They still believed he was innocent, with Margaret stating in The Staircase, "The bottom line is I just don't care. [Elizabeth's death] happened 18 years ago, and our dad had nothing to do with it."
Though Margaret and Martha appear to be firmly on their father's side, they don't seem to be seeking much of a public presence outside of their appearances in The Staircase. Neither has public social media accounts, and many of the details of their personal lives are similarly private. Margaret has a few IMDB credits to her name, having appeared as an actress in A Minority Report and Piranha-Man vs. Werewolf Man: Howl of the Piranha. She also worked as an uncredited production assistant on Star Trek: Into Darkness and Transformers: Dark of the Moon. It's unclear whether this is still something she's pursuing. Cosmopolitan also reported that Margaret married Neil Blakemore and goes by the name Margaret Blakemore now.
Both Margaret and Martha Ratliff seem to have moved on with their lives as much as they were able to after what happened.