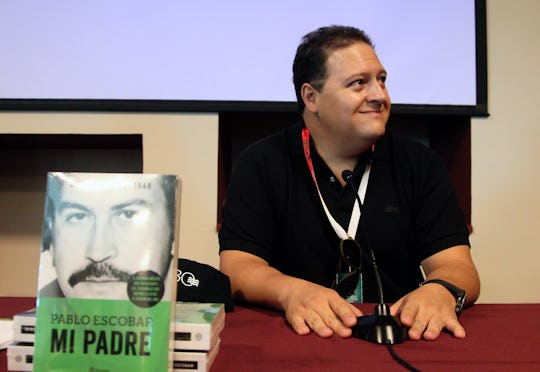 HECTOR GUERRERO/AFP/Getty Images
Pablo Escobar's Kids Are Living Very Different Lives IRL
Before Narcos, not many people probably thought of Pablo Escobar as a family man, but according to the way he's portrayed in the Netflix series, that's exactly what he was, next to Colombian drug lord. His children, Manuela and Juan Pablo Escobar, are even portrayed in the series and his close relationship with them is apparent. But where are Pablo Escobar's kids now? Manuela and Juan Pablo are living different lives from each other, with one in the relative spotlight and the other enjoying a quieter lifestyle.
Since fleeing Columbia for Argentina with Manuela (whose name was changed to Juana Manuela Marroquin Santos) and their mother after his father's death, Juan Pablo changed his name to Sebastian Marroquin and went a completely different route of his father in terms of a career choice. Marroquin is now an architect and public speaker, but has also written about his father in his best-selling book, Pablo Escobar: My Father. Although he changed his name, Marroquin didn't necessarily do it to distance himself from his father's memory, but instead to try and live a relatively normal life.
In a recent interview on Norwegian-Swedish talk show Skavlan, Marroquin revealed that one of the reasons he changed his name from Juan Pablo Escobar was to stay alive.
According to Marroquin, following Pablo's death, he and his family couldn't even buy plane tickets with their names and tried to find asylum with a couple of different countries, even asking the Vatican for help before realizing that changing their names would be the only hope.
Marroquin also revealed that while he and his family chose to get as far from the violence as possible, he did know from a child that Escobar was a criminal. "He was my father, but also he was a bandit," Marroquin said in the interview. "And when I was seven years old, he told me, 'look I am a bandit. That's what I do for a living.'" Although Marroquin chose a different life for himself, rather than continuing in the family business, as it were, he's clearly very open about his life as Escobar's only son.
In fact, it seems to be Marroquin's mission as an adult to right his father's wrongs in whatever way he can. According to The Independant, he travels around the world as a professional speaker, giving talks and lectures on drug policy reform and violence prevention. In 1999, he even sat down with the children of Justice Minister Rodrigo Lara and the former Colombian presidential candidate Luis Carlos Galan, who were both allegedly killed by Pablo, and asked them for forgiveness on his family's behalf.
"I was surprised when they agreed to sit down with me," Marroquin told The Independent. "Reconciliation is not usually part of a Colombian's vocabulary." That surprise carried over when Marroquin said the families of the slain politicians told him, "You were also a victim of Pablo Escobar," but Marroquin added, "I don't know if that's true. But if so, I'm the last person in Colombia who deserves any sympathy."
Since Marroquin was 17 at the time of his father's death, he clearly remembers a lot of what Escobar did and who his enemies were. But with Escobar's daughter Santos, her life continued in a very different way.
Santos was just 10 years old at the time of their father's death, and as a small child during her father's reign as a multi-billionaire drug kingpin, she likely remembers a lot less than her older brother. She's also apparently chosen to stay out of the spotlight for the most part. There's a lot less out there about Santos, but there have been reports about her having inherited the bulk of Escobar's estate that wasn't seized due to his criminal activities.
Unlike Santos, though, Marroquin is more vocal than ever about their family and their father. Instead of condemning Netflix for painting his father in a bad or untrue light, Marroquin has reportedly criticized the streaming service for "glorifying" his father's life:
Series about narcos have turned my father into a hero and given young people the idea that it is cool to be a drug trafficker. Whoever reads what I have written about my father will realize that the last thing I pursue is to save his face or justify him. He was responsible for his actions and I will not tire of apologizing for it.
He went on to reveal that in his eyes, thanks in part to Narcos, kids contact him regularly with questions about how to live a similar lifestyle as Escobar had once had. "I receive tons of messages from youths asking for help to be like my dad," he revealed to the newspaper. "They want to be that criminal, they send me photos dressed up like him, with his moustache, his hairstyle."
In the past few years, Marroquin has clearly made it his mission to try and do the opposite as his father in the public eye and even though Santos has maintained a noticeably quieter life, her brother seems to be speaking out enough for them both.