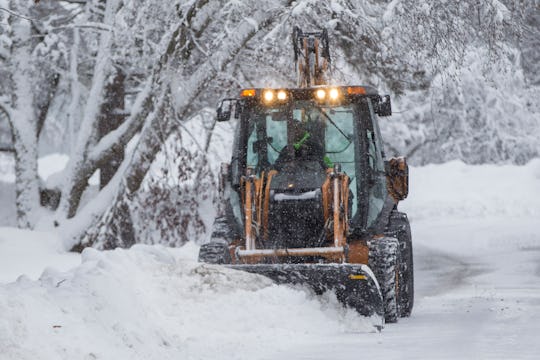 Scott Eisen/Getty Images News/Getty Images
Where Are Schools Closing For Winter Storm Stella?
While it's been feeling unseasonably warm in some places over the last few weeks, and had even started to feel like spring might be coming early, the Northeastern United States is bracing for a blizzard that will remind us that it's March rather than May. The National Weather Service began issuing advisories on Monday, and communities are already beginning their preparation. Where are schools closing for Winter Storm Stella? Some school districts on the eastern seaboard have already announced cancelations.
Winter Storm Stella began making its way through the Midwest on Monday, and is expected to move through the Northeast Monday night through to Wednesday. Storm warnings are already in effect for New York, New Jersey, Philadelphia, Baltimore, Boston, Washington D.C., and areas throughout New England, according to the National Weather Service. While snow accumulation totals are hard to predict for each individual location, the National Weather Service said many of the areas can likely expect up to a foot. It also warned that wind gusts and icy roads will make for blizzard conditions, which will make travel difficult. Flights at several of the East Coast's major airports, including LaGuardia in New York City and Baltimore-Washington International Airport have already been preemptively canceled, according to The New York Times. Here is where parents could see or will see school closings.
New York City Gets A Snow Day
New York City Mayor Bill de Blasio didn't waste any time getting on Twitter Monday afternoon to announce that the New York City Public School system would also be closed on Tuesday.
Greater New York Area
Connecticut Eyewitness News has already started posting community cancelations throughout the state, including several school systems. It also issued many parking bans. The state of New Jersey also began issuing school closures for several private schools and preschools, according to News 12 New Jersey's closure listing.
Washington D.C. & Baltimore
According to NBC's Washington affiliate, by Monday afternoon a few private schools in the D.C. area had already called in their closures for Tuesday. The Baltimore public school system has yet to issue any cancelations or delays, according to its website.
Greater Boston Area
Schools in and around the city of Boston began issuing closures Monday afternoon, according to the CBSLocal affiliate in Boston. One of the first public schools to issue a closure ahead of Winter Storm Stella was Danvers, according to the closures' page, which is updating in real-time.
New England
As of Monday afternoon, NECN's closure tracking page showed that New Hampshire had already issued two closures, but Vermont, Maine, and Rhode Island had yet to report any. Of course, that doesn't mean that they won't.
If you just can't wait for a formal announcement from your school district, you can try to predict the likelihood of a snow day using Accuweather's Snow Day Forecast tool.