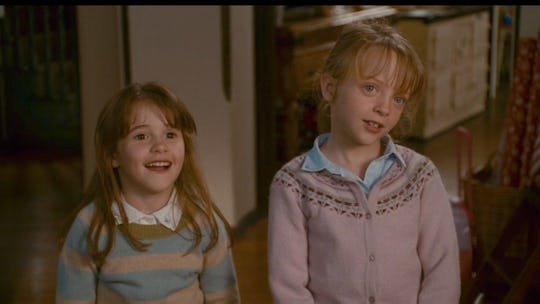 Columbia Pictures
Sophie & Olivia From 'The Holiday' Are All Grown Up, So Prepare To Feel Old
One of the best parts of beloved Christmas movie The Holiday is when Cameron Diaz discovers that the constant calls coming through on Jude Law's phone weren't from other admirers, but from his two extremely adorable daughters. The two young actresses were highlights of the film, but what happened to them after the credits rolled? Where are Sophie and Olivia from The Holiday now? Eleven years have passed since the movie first came out, but it's still difficult to believe just how grown up they have become.
Sophie, the older of the two girls, was played by Miffy Englefield, which is a truly amazing name that makes her sound like the lead character of a British boarding school novel. Her cinematic sister Olivia was played by Emma Pritchard. Both girls are in their late teens these days, though neither appears to be pursuing a career in front of the camera anymore. The Holiday is Pritchard's only IMDB credit, though Englefield has a few more. She appeared in the television shows The Whistleblowers and Casualty, as well as the short film Beautiful Girl, but it seems she hasn't acted since 2011.
Thanks to the wonders of social media, however, it's not too difficult to catch up with Englefield and Pritchard.
In her Instagram bio, Englefield describes herself as a "rowdy musical thing living in Folkestone, Kent. Short, loud and mostly ridiculous." Like many 18-year-olds, her page is full of selfies with shockingly perfect winged eyeliner, but there are also short videos of her musical endeavors at open mic nights. Her fashion sense is a far cry from Sophie's oatmeal-colored sweaters, but the punkier aesthetic suits her. According to The Daily Mail, she studied performing arts in college and her evident interest in music proves the arts are still very much on her mind.
And she might still return to acting. Cosmopolitan reported that in an interview with OK! from a few years ago that no longer seems to be available, Englefield said, "[Acting is] still something I'm ridiculously passionate about. I'd definitely love to work again in the acting world, the experiences I gained from the things I've done in the past were incredible and I'd love to carry it on."
Meanwhile, Pritchard, now 15, is much less easy to locate on the internet — and that's probably a good thing considering how young she is. She has a Facebook page that has a few photos from the last few years, but otherwise appears to be living out of the public eye. She seems like a totally normal teen, hanging out with friends and family and dyeing her hair unusual colors (in this case, a very cute plum).
It's not clear whether Pritchard wants to go after a career in show business anymore, but it doesn't seem likely based on how out of the spotlight she is now.
But the possibility of a sequel to The Holiday is always plausible in the world of reboots and revisits that everyone lives in now, and star Jude Law seemed open to the possibility back in 2014. He even speculated on how the teenaged versions of Sophie and Olivia would react to the iconic Mr. Napkin Head. He told Glamour UK:
The girls will be grown up, y'see, so they wouldn't want me to do [Mr. Napkin Head]. I'd be the sort of dad that'd do it and they'd be like, 'Dad, what are you doing?' How old would they be now? So that was made, what, eight years ago? Oh my goodness, they'll be like teenagers, aren't they? [GASP] They're going to be TEENAGERS! Miffy, she was such a sweet little girl. Aww.
That parenthetical gasp sums up how I feel when I find out small children from movies have grown up.
Suffice to say, it looks like both Englefield and Pritchard are living totally normal lives for now, but they'll always be the best part of The Holiday, in my opinion.
Check out Romper's new video series, Romper's Doula Diaries:
Watch full episodes of Romper's Doula Diaries on Facebook Watch.