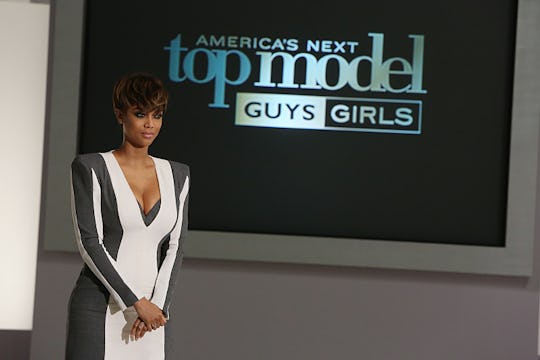 Where Are The 'America's Next Top Model' Winners Now? Hint: They're Doing Okay
After 22 cycles — and an endless amount hopefuls waiting to be discovered — America's Next Top Model is coming to an end. The show, which began in May of 2003 as a search for "the next big thing," quickly became a "big thing" in its own right, but now more than 15 years later it is coming to a close. And on Friday, Dec. 4 at 8 p.m. ET the show will air for the last time.
Oh ANTM, what will we do without you? How will viewers survive without Tyra's weekly reminders to "smize" whenever a camera is near, or to create your own wind when walking down the street. But ANTM has done more than help ordinary people up their selfie game. The reality competition helped many women (and even a few men) get their foot in the door at some of the top modeling agencies in the country. Beneath the crazy photo shoots and heavy duty drama, ANTM was a networking opportunity for hundreds of aspiring models. Though some competitors faded in to the background, several ANTM contestants have had successful careers and made names for themselves in the modeling world.
And so in honor of the show's run, we've done some research to find out what exactly your favorite — and not so favorite — models are up to.
Season 1: Adrianne Curry
It seems wrong to start anywhere with anyone aside from Adrianne Curry. Curry became the country's first-ever next top model on July 15, 2003. The 20-year-old brunette beat out fellow finalists Shannon Stewart and Elyse Sewell to take home the crown, and while Curry did pursue a modeling career after the show, she is perhaps best known for her TV work, appearing in The Surreal Life and starring in her own VH1 reality show, My Fair Brady (which followed her engagement, wedding, and first year of marriage with Christopher Knight, aka Peter Brady).
Season 2: Yoanna House
House is still modeling, and has been for more than 10 years. Most recently, House walked New York Fashion Week in Michael Costello's Fall/Winter 2015 show. She also hosted The N's reality series Queen Bees and acts as a brand ambassador for the Home Shopping Network (HSN).
Season 3: Eva Marcille (Pigford)
Pigford, who changed her name to Eva Marcille in 2006, has quite a busy modeling career, but in recent years it seems she has shifted her attention to acting, appearing in House of Payne, The Young and the Restless, Note to Self and on 2013's 24 Hour Love.
Season 4: Naima Mora
Since ANTM, Naima Mora has published a book — entitled Naima Mora's Model Behavior — appeared on Veronica Mars, and she has done an ad campaign for CoverGirl with fellow ANTM winner Yoanna House. Mora continues to do print modeling, and she continues to walk in fashion shows.
Season 10: Whitney Thompson
A fan favorite — and one of Tyra's favorites — Thompson modeled for ad campaigns immediately following her appearance on ANTM but in recent years the model has shifted her attention to running a farm-to-table restaurant, Whitney Lee's, in Springfield, Tennessee.
Season 17: Lisa D'Amato
The outspoken D'Amato, who first appeared in Cycle 5, was brought back in Cycle 17 — when she beat out fellow finalists Allison Harvard and Angelea Preston. While D'Amato still models from time to time, she is now focusing most of her time and energy on her music career.
Season 21: Keith Carlos
Last season, Carlos became the show's first male winner and he is now modeling and acting. He has a role in the upcoming film, Another Hollywood Tragedy, and has modeled for Brigitte magazine and Men's Wearhouse.
So all in all, ANTM wasn't a bad launching ground. Thanks, Tyra and the CW, for jump-starting these careers. We'll miss you.
Image: CW