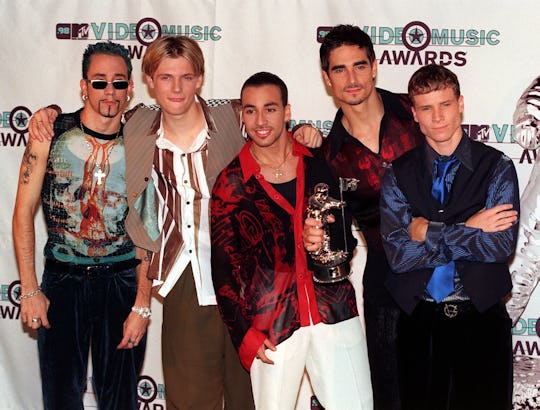 Vince Bucci/AFP/Getty
Where Are The Backstreet Boys Now? They're Still "Larger Than Life"
In the mid-to-late '90s, I was a little girl, and I was a Backstreet Boys fan. Sure, I liked NSYNC and all, but I fell in love with Backstreet Boys first (Brian Littrell, to be specific) and I'm very loyal, so nobody could convince me that NSYNC was better. In fact, to this day, if anyone asks "Backstreet or NSYNC?", it's Backstreet Boys forever, Justin Timberlake be damned. So naturally, I want to know where are the members of the Backstreet Boys now? And as it turns out, they're doing pretty well.
The Backstreet Boys formed way back in 1993, when Howie D., A.J. McLean, and Nick Carter joined up with cousins Kevin Richardson and Brian Littrell with the help of Lou Pearlman, who was looking to form a musical group. While they became famous first in Europe (particularly Germany), their album Backstreet Boys rose to number four in the U.S. charts in 1997, and featured the classic "Quit Playing Games With My Heart" — which I can still sing every line of. The band's subsequent albums, Backstreet's Back, Millennium, Black & Blue, and more cemented the band as bona fide superstars. I have only to remember seeing them in concert (one of my first) to remember how huge they were. They're no longer the young pre-teens the world over fantasize about, but they're certainly still around, and doing pretty damn well, thank you very much. Here's what the boys are up to today.
Kevin Richardson
The oldest, and most mature of the Backstreet Boys, Kevin was something of a low-key hottie. He didn't have the baby-face charm of Nick Carter, but he did have one hell of a smolder that eight and nine-year-old me just never fully appreciated. Post-Backstreet, Kevin has been on Broadway in Chicago, has modeled for Versace, and has acted in several Indie films, including for The Casserole Club for which he scooped an Independent Vision Award for Best Actor. Who knew he was so well-rounded?
A.J. McLean
Native to Orlando, A.J. was the first official member of the Backstreet Boys, for which the world must be eternally grateful. A.J. was the bad boy of the group, a designation which got all too real when it was revealed that A.J. was suffering from addiction, which he has worked hard to overcome. As a solo artist, A.J. sometimes performs under the name Johnny NoName, who is his alter ego. He is now married and has a beautiful daughter with his wife, Rochelle.
Howie D.
The "D" in "Howie D" stands for Dorough, which maybe you didn't know/remember form childhood. Like his bandmates, Howie began working on solo projects, and put out his first solo album in 2011. He also married the band's webmaster, according to InStyle, which is a pretty incredible way to meet your mate. The two have two children now.
Brian Littrell
Ah, my first love. Brian Littrell may be most famous for Backstreet Boys, but that is far from his only musical project. Brian is also a devout Christian, and released his first Christian music album, Welcome Home, in 2006. If you're not familiar with the Christian Pop scene, then you might not realize that Brian is massively successful in this arena, with this album hitting in the Top 5 on the Christian album chart. Brian has been married to Leighanne Littrell since 2000, and the two have a son, born in 2002, who was recently in a Broadway musical in 2016!
Nick Carter
Since the Backstreet Boys, Nick has also launched a successful solo career. He released the album Now or Never, which hit the Billboard 200 charts in 2002. He was also on the show House of Carters, which followed the Carter family around during 2006. In 2015 he came in second place on Dancing with the Stars.
Clearly the Backstreet Boys are still keeping busy, and often reunite to delight fans with some of their old music. A.k.a., they've still got our hearts, no games involved.