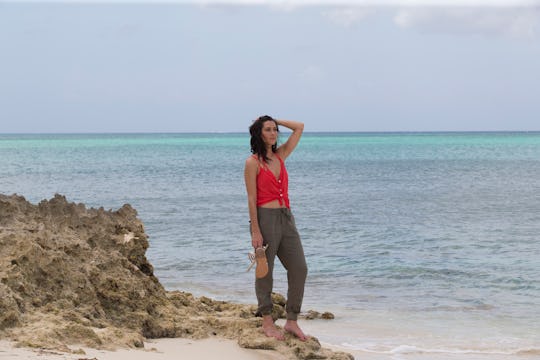 Paul Hebert/ABC
'The Bachelorette' Will End Her Season In This Tropical Country
There have been a lot of US-based trips this Bachelorette season but now that Becca's going to pick her future fiancé, the show is heading to more exotic locales. The first was Thailand, and now the Maldives for the finale. Perhaps you're wondering, 'Where are the Maldives?' The Bachelorette will make her final choice in a tropical place.
The Maldives is an Asian country located in the Indian ocean and the closest countries to it are Sri Lanka and India. According to the Maldives's tourism website, "Notably the South Asian Island nation has no counterpart in the entire world in terms of its unique geography and topography."
I have to admit, up until now, the destinations on Becca's season have been a little underwhelming. That's not to say I haven't enjoyed watching the dates in those places, but it's a stark contrast to seasons before. Vulture pointed out that previous Bachelorettes have had more relatively exciting trips. Rachel Lindsay and her men went to Hilton Head, Oslo, Copenhagen, and Geneva; JoJo Fletcher before her went to Uruguay and two different locations in Argentina: Buenos Aires, and the countryside. Becca, however, has been to Park City, Utah; Las Vegas, Nevada; and Richmond, Virginia.
Granted, Becca spent her fantasy suite dates in Thailand, but Vulture also pointed out that Thailand was a repeat date from JoJo's season. Fans don't know why Becca has had relatively ho-hum destinations, but at least the season is wrapping up in a tropical location. Maybe Becca is just a homebody for the most part!
Anyway, while the Maldives is beautiful and will surely make me envious that she, Blake, and Garrett will get their final dates there, the destination isn't what the finale is all about. Bachelor Nation will finally learn who Becca picked, which is the question on everyone's mind since the Bachelorette announced that she is, in fact, engaged. Fans will have to wait another week to see that and the gorgeous Maldives, however, as the annual Men Tell All special airs this week first.
Men Tell All, in my opinion, isn't as juicy as After the Final Rose, because the latter has the drama I care about the most. Going from the Men Tell All promo, fans will see some of this season's villains hopefully find closure. Chris R. and Jordan, two of the more maligned of Becca's guys, are among them, and fans will see these guys again on Bachelor in Paradise as well.
Sure, I won't mind seeing those two and the rest of Becca's exes on Men Tell All, but it's After the Final Rose I'm really holding my breath for. It probably won't be as dramatic as Arie's After the Final Rose where viewers watched his painful bait-and-switch, but does Bachelor Nation really want to go through that again? What I want to see is the happy couple discuss their lives as well as some closure for the runner-up.
Unfortunately, Bachelor Nation won't hear the announcement of the next Bachelor at that point — the news will likely come out around September. In the meantime, though, there's Bachelor in Paradise to watch. Before you know it, the next season's lead will be announced and he and his two dozen girlfriends will be jetting off to all new far-flung destinations.
But for now, Bachelor Nation has the Maldives and Becca's finale to look forward to. I hope she, Blake, and Garrett get to do all the fun tourist attractions the Maldives is known for, like snorkeling and beaching. But to be honest, no amount of sight-seeing is going to compare to the excitement of the proposal.