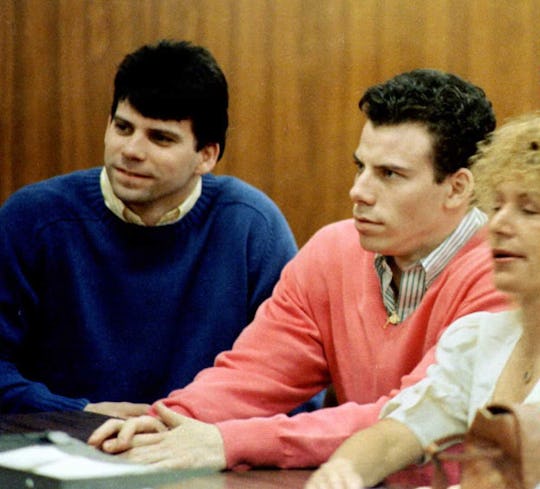 MIKE NELSON/AFP/Getty Images
Lyle & Erik Menendez Are Paying For Their Crimes
Before O.J. Simpson, the Menendez brothers were considered to be the trial of the century. In 1989, Lyle and Erik Menendez, who were 21 and 18 years old at the time, respectively, shot and killed their parents in the living room, which may lead you to wonder: where are the Menendez brothers now? They were convicted and sentenced to life in prison without the possibility of parole. They are serving their sentences separately and have not seen one another in years.
The upcoming ABC documentary special Truth and Lies: The Menendez Brothers — American Sons American Murderers will feature interviews from Lyle speaking about his recollections from that fateful night. The brothers alleged that they shot their parents in self-defense after years of abuse (though these claims were never proven). The prosecution argued that they just wanted the inheritance. Whatever the truth is, only Lyle and Erik really know for sure. Now they've had to adjust to a future behind bars and carve out lives for themselves in confinement. Both brothers ended up marrying in prison, though conjugal visits are not possible for them in the state of California. They communicate with each other through letters, though after years of separation it's hardly surprising that they're no longer very close. Erik has said in interviews that he no longer thinks he deserves to be in prison, but that possibility is highly unlikely, given that a life sentence means just that: it lasts for the rest of your life.
Erik's wife Tammi began writing letters to him while he was in prison. Eventually, the couple started a relationship and were married in Folsom State Prison in 2005, though they have never spent time together outside of prison walls. Tammi also has a daughter, Talia, who Erik is something of a father figure to. Whatever you may think of this relationship, they seem pretty committed to sticking to it. Tammi even wrote a book about her marriage and her experiences with Erik called They Said We'd Never Make It: My Life With Erik Menendez. In an interview with NBC, when asked if it bothered her that he shot his parents and admitted as much, she said, "It troubles me, but I do know the person that Erik is and I know his heart, I know his soul, and I do know what happened that night. And I do understand."
While neither Menendez brother is eligible for parole and will most likely spend the rest of their lives in prison, they have been fighting for a new trial ever since. But as it currently stands, they aren't going anywhere anytime soon.