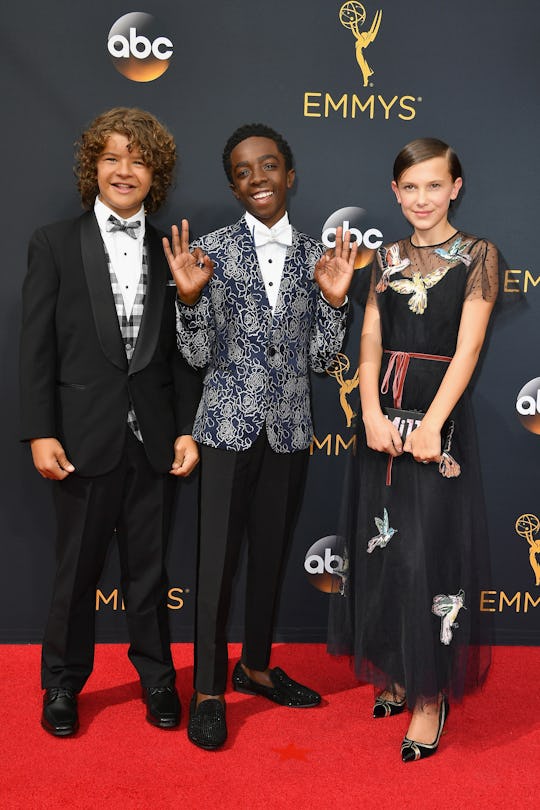 Steve Granitz/Getty
Where Are The Other 'Stranger Things' Kids On The 2016 Emmys Red Carpet?
Of all the stars on the red carpet at the 2016 Emmys on Sunday night, none got as much love and attention as Millie Bobbie Brown, Gaten Matarazzo, and Caleb McLaughlin — i.e. the stars of Netflix's hit series Stranger Things. But where are the other Stranger Things kids on the 2016 Emmys red carpet? Well, they likely aren't making an appearance.
Because it aired in the summer, Stranger Things was not technically eligible for the 2016 Emmys. (But you can be sure that it's going to scoop up several nominations in 2017.) Nevertheless, the child stars playing Eleven, Dustin, and Lucas — Brown, Matarazzo, and McLaughlin, respectively — came to the Emmys to steal the show away from literally everyone. But where are their co-stars? Noah Schnapp, who plays Will Byers, and Finn Wolfhard, who plays Mike, were nowhere to be seen. As reported by Page 6, Wolfhardwas not in attendance because he was wrapping up the film It, an adaptation of the Stephen King novel, so for that we can forgive him. As for Schnapp, there's still no sign of his whereabouts, but he'd given an interview with Entertainment Tonight about Season 2 of the show, so the world will be seeing him again very soon.
Though it was their first Emmys red carpet ever, the three little kiddos who were there were consummate professionals and also perfection. Brown was wearing Valentino, naturally, McLaughlin was in Eaden Myles, and Matarazzo got his tux from "the rental place."
Stranger Things premiered on Netflix on July 15 to immediate acclaim. The extraordinarily binge-able series owed much of its magic to Steven Spielberg, ET, and basically all classic movies from the '80s. But it ended on an agonizing cliffhanger. Is Eleven alive or not? Nobody is giving anything away, but when asked about her character, Schnapp told ET, "I don't think she's dead because she was an important character. They can't just take her out in a snap like that." Agreed.
At the very least, we can't be denied another opportunity of seeing Brown looking at once poised, elegant, and adorable in a designer gown at the red carpet. Even if — horror of horrors — Eleven doesn't come back for Season 2 of the series, it's all but certain that the young actress has an incredible career ahead of her.