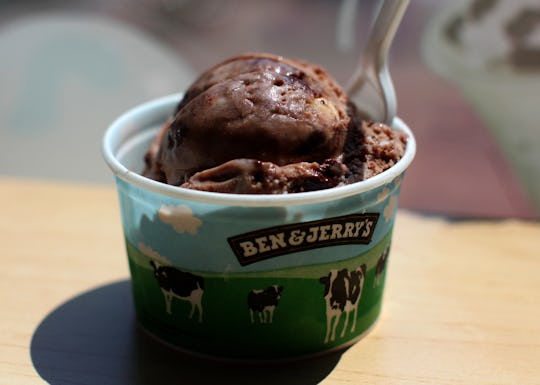 Where Can You Buy Ben & Jerry's Bernie Sanders Ice Cream? It Might Be Hard To Find
Attention lovers of ice cream and loyal supporters of Vermont Sen. Bernie Sanders: While it will be a few more months before the Democratic presidential nomination is announced, Berners can start enjoying the sweet taste of Sanders' potential victory today thanks to "Bernie's Yearning," an ice cream made in honor of Sanders. The ice cream comes from one of Vermont's most famous ice-cream makers, Ben Cohen — co-founder of Ben & Jerry's (though the Ben & Jerry's brand disavows any connection with the creation). But if it isn't a "Ben & Jerry's product" how can one find it? More importantly, where can you buy Ben & Jerry's Sanders ice cream? Unfortunately, you might not be able to.
According to Ben Cohen — longtime Sanders supporter, and the "Ben" in Ben & Jerry's — "Bernie's Yearning" is a very limited-edition flavor, and it cannot be bought. And worse, according to Edward Erikson, a consultant working with Cohen on the project, there are "no plans for mass distribution." (Boo!) Only 40 pints were made, by Cohen — and in Cohen's own kitchen — and 25 of those were donated to Sanders' campaign. But all hope isn't lost: It seems the Sanders campaign is running a contest for supporters to win the some of those 25 pints. (Score!)
So what, exactly, is this coveted blend? In an interview with MSNBC, Cohen explained the premise behind "Bernie's Yearning," a pint of plain mint ice cream topped by a single, and large, milk chocolate disk.
[The disc is meant to represent] the huge majority of economic gains that have gone to the top 1 percent since the end of the recession. Beneath it, the rest of us.
Damn, Cohen. Way to make a statement!
Earlier today, Cohen Tweeted several pics of the ice cream.
Cohen also Tweeted the following message, an obvious nod to Sanders (whose time Cohen hopes has come).
Nothing is so unstoppable as a flavor whose time has finally come ‪#FeelTheBern‬ ‪#BerniesYearning
However, it is important to retierate that Ben & Jerry's is not involved with this product.
And while the packaging for the pints resembles that of Ben & Jerry's, the company's name has been replaced by "Ben's Best" and the slogan "Vermont's Finest" has been changed to "Vermont's Finest Senator."
I, however, do not care who's involved: I just want some!
Images: Mr.TinDC/Flickr