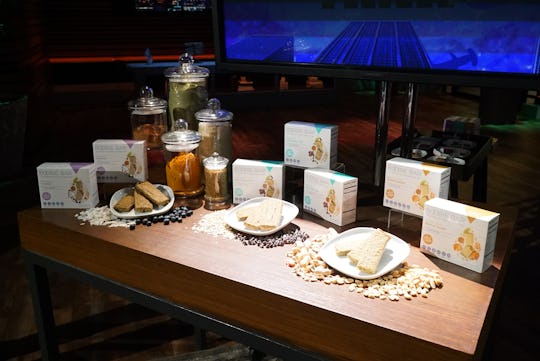 Eric McCandless/ABC
This 'Shark Tank' Product Could Help Increase Your Milk Supply
It's hard not to watch Shark Tank and not online shop for the products on the show at the same time, even when the investors aren't totally swayed by something. If you watched this week and are a new mom, or know a mom-to-be, you definitely need to know where to buy the Boobie Bars from Shark Tank, since they're already pretty highly rated lactation bars.
Boobie Bars were created by Wendy Colson, a registered nurse and board certified lactation consultant who found that her clients were in need of a healthy, all-natural, easy snack to eat in order to increase their milk supply. She started to make them in her home kitchen, just for clients, in 2011 and they were hard to keep around. In 2015, Colson introduced the product to the world and sells them online, but came to Shark Tank to ask the sharks for a little boost.
While we'll have to wait and see what the Shark's actually end up doing with the product, you can buy Boobie Bars now if they look great to you. You can buy single packages directly from the website for $17.99 or sign up for a subscription service, and get a 30-day supply of bars sent to your house every month for $79, so you don't have to even think about it. They have a store locator on their website, too, so you can find a place close to you to buy them, such as Walmart, buybuy BABY and Babies "R" Us, as well as birthing hospitals. Online, there are single boxes sold on Amazon, too, for $15 to $23, depending on the flavor.
Boobie Bar The Original Lactation Bar, $18, Amazon
So if you want a Boobie Bar, you can definitely get some. They're good for you, too!
The bars are made with a "boobie blend," which is a blend of herbs that provides a daily dose of galactagogues, which is a substance that increases milk supply. Eating just one bar can increase your milk output by 4.6 ounces in just three days, according to the website. The bars are vegan, gluten-free, Kosher, and don't contain soy, which, in addition to dairy and eggs, can be a common allergen. They're also super rich in iron.
In addition to being good for your milk supply, it's pretty badass to support a small, women-run business while you're at it, too. Along with running Boobie Bars, Colson also runs Latching with Love, a private practice in San Diego to help new moms with lactation.
When her mother died in 2014, Colson took the inheritance and threw it into the company to take it to the next level, according to Forbes. Now, with an "ultra lean" manufacturing model, the bars pull in about $1 million a year in revenue.
Although she used to cook them herself, Colson outsourced the manufacturing in 2015 to a small company. "You can't sit around cooking if you are really going to drive this to $1 million," she explained during an interview with Forbes. "I knew what it took just to get out 100 bars to that weekly support group." Her business grew quickly and she has little to no marketing budget, selling the bars by word of mouth, which might be the best endorsement of them yet.
Colson is passionate about the bars and helping new moms, telling Forbes, "If [a mom's breastfeeding] goal was one year, and at 9 months she is worried about her milk supply — and eating one Boobie Bar a day helps her get to her goal, I feel like a million dollars." Hopefully the Sharks will feel the same way.
Check out Romper's new video series, Romper's Doula Diaries:
Watch full episodes of Romper's Doula Diaries on Facebook Watch.