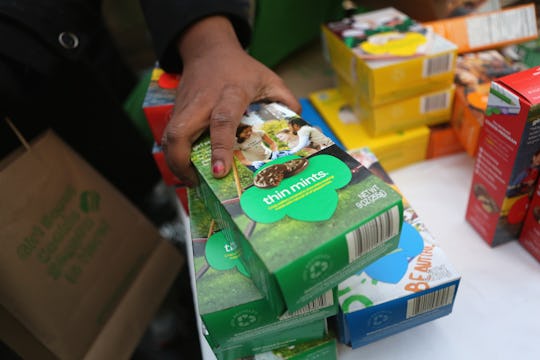 John Moore/Getty Images News/Getty Images
Where Can You Buy Girl Scout Cookie Cereal? You Have A Reason To Eat Dessert For Breakfast
When I heard the news that Girl Scout cookie flavored cereal is coming, I thought about the fact that children everywhere (and adults — you know who you are) will easily be able to get their "dessert as breakfast" fix — for better or for worse. There's something about being able to eat something that's sinfully sweet first thing in the morning that appeals to a lot of us. I'm sure you're all dying to know: where can you buy Girl Scout cookie cereal?
I may not have been able to eat Thin Mints first thing in the morning as a kid but I do have experience eating dessert as breakfast. At 6 years old, I once ate a bowl of ice cream for breakfast. My mom left bowls of ice cream in the freezer for my cousin, who had spent the previous night with us, and myself to enjoy while she was at work and my older sister watched us. But, being 6, I didn't have the patience to eat my ice cream as an afternoon snack. So at 8 in the morning, I greedily grabbed a spoon and finished off my ice cream. I don't even think I enjoyed it since I had just rinsed toothpaste out of my mouth five minutes earlier, but the fact that I had the freedom to eat dessert anytime I wanted was what made me happy.
Now, kids can get a version of this sweet experience that's actually meant to be eaten during breakfast. On Monday, General Mills announced the collaboration with Girl Scouts to create two new cookie flavored cereals. The two flavors will be Thin Mints and Caramel Crunch (which is based off of the Girl Scouts' Samoa cookies). Thin Mints and Samoa cookies are Girl Scouts' best and second-best selling flavors.
The cereals will be available nationwide beginning in January 2017 for a limited time, Thrillist reported.
Images of the cereals were leaked on Candy Hunting's Instagram page before General Mills had released any sort of press release about the product.
Although the cereal will be available nationwide, it's unclear yet what stores they will be carried in. Romper reached out to General Mills to find out, but a spokesperson said that additional information won't be available until closer to the product's release date.
The collaboration came about because Girl Scouts of the USA approached General Mills, Romper learned exclusively. A spokesperson for Girl Scouts told Romper exclusively that the collaboration is intended to "reach more potential girls and volunteers."
The spokesperson added that the cereal is part of a "broader plan" to:
[D]eliver the message and the value of our mission to help more girls in more places tap into their leadership potential and develop the courage, confidence and character they need to make the world a better place.
Which means you have a way better reason to eat Thin Mints for breakfast than I had to eat ice cream.