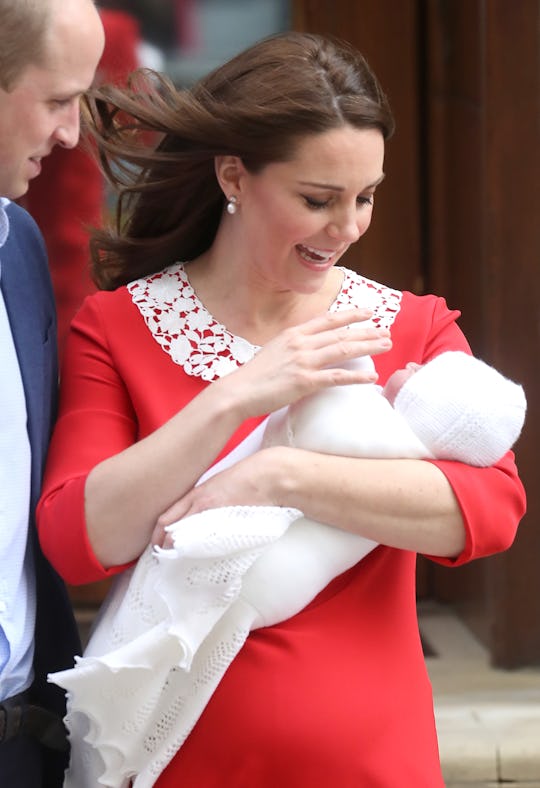 Chris Jackson/Getty Images Entertainment/Getty Images
Where To Get A Red Dress Like The One Kate Middleton Wore Revealing The Royal Baby
Each time The Duchess of Cambridge, Kate Middleton left the hospital after giving birth to her first two children, she exited the hospital in the same way: looking radiant in a beautiful dress with a precious newborn baby in her arms. Now that the Duchess and her royal husband, Duke of Cambridge, Prince William, have made their first public appearance with their third baby — a son born on April 23 — fans are wondering who the designer is behind the royal mum's gorgeous red ensemble, and where they can buy Kate Middleton's dress.
Because history oftentimes repeats itself, especially when it comes to Kate's wardrobe (the princess is known for her practical pieces and for wearing her clothes more than once, just like us mere mortals), Kate's dress is from one of her favorite designers. For babies one and two, Prince George of Cambridge and Princess Charlotte of Cambridge, Kate left the hospital each time wearing custom knee-length Jenny Packman dresses, reported The Huffington Post. For this third exit from St. Mary's Hospital, Kate introduced her newborn son to the world wearing a Jenny Packman red shift dress with lace collar, according to InStyle, and her signature nude heels.
Perhaps the most wonderful thing about her outfit is that it's possibly a nod to the red, shoulder-pad-centric dress number Princess Diana wore when she appeared with Prince Harry for the first time. Aww.
Below is a shot from the Duke and Duchess's first time experience exiting the hospital with their eldest, Prince George. Love that the royal parents coordinated in blue and that they weren't shy about sharing George's sweet face with the world. The polkadot motif on Kate's Jenny Packman dress is believed to echo the motif on the dress that the late Princess Diana wore on the steps of the same hospital while carrying Prince William as a newborn. (Yes, cue the waterworks) Her shoes were simple, nude wedges with a low heel.
The second time around, Kate again wore a custom Jenny Packman gown, this time with a yellow flower motif. William chose a sweater in his signature blue. Her Stuart Weitzman shoes look like they are ever so slightly taller than her first look, but we all know Kate is a pro when it comes to walking around in heels, with or without a baby in her arms.
If you're desperate to get Kate Middleton's post-hospital look (either her most recent or any of the previous ones), you could always call the designer's showroom to see if they would recreate her dress for you, or at least something in a similar vein to make it feel more authentic. In the meantime, there are dresses that echo Kate's postpartum style that you can put in your shopping cart today that won't require you to send in your measurements for a custom fit or wait weeks to be created. They're also much more forgiving on the wallet.
And if you want Kate Middleton postpartum vibes, but want to put your own twist to it, you surely can opt for you own fabrics, patterns, and cuts. there are just three things to keep in mind when trying to recreate her style. One, the cut should be loose and comfortable. No waist-cinching here. Instead, look for shift dresses that won't cinch your body, that let's be honest, has just been through a lot doesn't need to be restricted in any way right now. Second, the hem should hit right above the knee. It's just the Kate Middleton way. And third, don't think too much about the shoes. Just go for a pair of nude shoes in whatever height is comfortable to you, flat or with a height.
In the meantime, here are a couple styles to get you started.