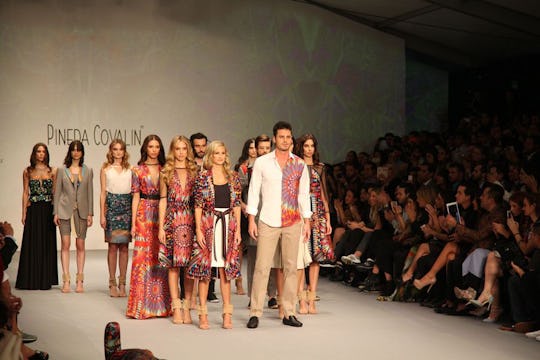 ABC
Where Can You Buy Pineda Covalin's Clothes? The Designs From 'The Bachelor' Are Easy To Snag
The Bachelor is chock full of magical, over-the-top dates that can make us fall in love simply by viewing, but this season took the perfect date to a whole new level when Ben brought Lauren H. to Mexico City's Fashion Week to model. Yeah, that's something we could totally get behind. (Ben, we see you working that smize on the runway!) If you absolutely fell in love with the vibrant, Latin-inspired designs of Pineda Covalin, you're definitely not alone. But where can you buy Pineda Covalin's designs? Are the duds Ben and Lauren were rocking available in the United States, or are we going to have to find our very own Bachelor to take us to Mexico City?
Pineda Covalin is one of the premiere designers in Mexico, started by Cristina Pined and Ricardo Covalin in 1996. Comprising both men's and women's clothing and accessories, Pineda Covalin seeks to incorporate all of the beauty of Mexican and Latin culture into stunning prints, and bold designs. And they look positively gorgeous!
If you're looking to rock one of their dresses, or maybe add a pop of color to your wardrobe with a Pineda Covalin scarf, look no further than the Pineda Covalin website. An online boutique (with no need for currency exchange) allows you to browse and shop wallets, bags, coats, shawls, and more. But because this line is designer, it of course will cost you a pretty penny. A scarf alone will cost you about $91. That's Bachelor luxury for you.
If you live in New York City, though, there's a boutique outlet right on Mercer Street in the trendy SoHo neighborhood. Miami residents are also in luck, because there's a boutique store located just in Coconut Grove.
Then there's the eBay option as well, where you can search some of the latest and past designs for a discounted price. Sign me up, please!