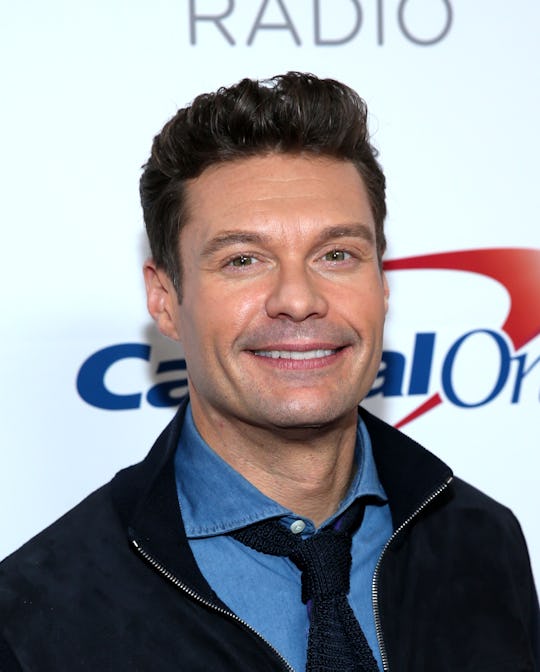 Where Can You Buy Ryan Seacrest's Distinction Clothing Line? It's Easier Than You Think
Award season officially kicked off Sunday, Jan. 11 with the 73rd annual Golden Globes, hosted by Ricky Gervais at the Beverly Hilton. Viewers were eager to tune in early to watch the red carpet festivities and see the hottest fashions. E! Red Carpet host and Hollywood heavy-hitter Ryan Seacrest was eager to show off his Distinction line, leaving fans across the country wondering where to buy Ryan Seacrest's Distinction line.
Turns out, if you want to dress like Ryan Seacrest, you need to locate your nearest Macy's store: Seacrest's apparel and accessories are now available at Macy's stores across the country. To add to the convenience, you can buy the threads online from the comfort of your living room while watching the Golden Globes.
The E! Red Carpet host — arguably Hollywood's busiest man, juggling American Idol, On Air With Ryan Seacrest, and producing numerous shows through is production company, Ryan Seacrest Productions — debuted his clothing line in the fall of 2015. His collection includes suits, tuxedos, dress shirts, ties, belts, and tie bars, all priced between $45 and $550.
In a 2014 interview with The Wall Street Journal, Seacrest pushed back against the idea that he should now be labeled a "designer," stating, "I'm not a designer, nor do I think I am. I see an opportunity to help curate these different pieces for guys at an accessible level."
Early Golden Globes viewers were quick to point out the E! Red Carpet hosts decision to wear his own line on the red carpet. Of course, Twitter users aren't one to pass up an opportunity to poke fun at, well, just about anyone (Ryan Seacrest included).
Whether you think wearing your own clothing line to an award show is tacky, smart, or somewhere in between, there's no denying that Ryan Seacrest is looking debonaire in his classic cut tuxedo.
So if you like this look, or any other that Seacrest has rocked in the past, hit up a Macy's store near you.
Images: Jonathan Leibson/Get