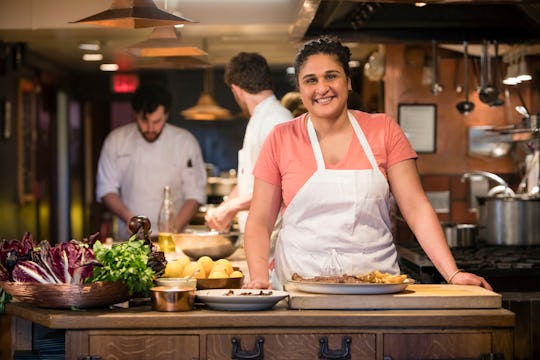 Adam Rose/Netflix
Samin Nosrat's Cookbook Is Going To Become Your New Kitchen Go-To
I didn't realize how simple cooking could be until I saw Samin Nosrat break it down to four elements in Netflix's new documentary series Salt Fat Acid Heat. The show is based on Nosrat's cookbook Salt, Fat, Acid, Heat: Mastering the Elements of Good Cooking. And if you were inspired to get back into the kitchen after watching the series, you may want to know: where can you buy Samin Nosrat's cookbook?
Luckily, her book is readily available online. You can purchase a hard copy of Salt, Fat, Acid, Heat: Mastering the Elements of Good Cooking from Amazon (available for your Kindle as well), Barnes and Noble, and Powell Books. And if you're looking for an audio version of this New York Times bestseller, you can find it on Audible, Amazon, or iTunes.
Nosrat's book has received a ton of praise and accolades, and what makes her book distinctively different is the simple way she presents the fundamentals of cooking. In an interview with NPR, Nosrat explained that using your own intuition in the kitchen can teach you more about cooking than just a recipe. "The elements and the tenets of professional cooking don't always get translated to the home cook," she told NPR's Rachel Martin. "Recipes don't encourage you to use your own senses and use your own judgement. And salt, fat, acid and heat can be your compass when you maybe don't have other tools."
One of the reason's Nosrat is able to translate cooking into approachable terms is that she doesn't come from a formally trained culinary background herself. In an interview with Time, Nosrat revealed that she was so blown away by a dinner she had at Chez Panisse one night, that she asked them to hire her. She learned how to cook in the kitchen of Chez Panisse and after two years there, she found that mastering a good dish came down to four basic elements: salt, fat, acid, and heat.
Nosrat realized that while culinary professionals may have already been privy to her revelation, the novice home cook was not. In her book she writes, "Everyone didn't know that. I'd never heard or read it anywhere, and certainly no one had ever explicitly related the idea to me. Once I understood it, and once it had been confirmed by a professional chef, it seemed inconceivable that no one had ever framed things in this way for people interested in learning how to cook. I decided then I'd write a book elucidating the revelation for other amateur cooks."
Along with deconstructing the art of cooking into simple, relatable terms, Nosrat's cookbook features easy recipes and fun illustrations. When NPR's Martin asked why she chose to incorporate illustrations over glossy photographs, Nosrat said it was all about keeping the pressure off the cook. "This book and this message is about teaching you to be loose in the kitchen, and I didn't want you to feel bound to my one image of a perfect dish in a perfect moment and feel like that was what you had to make," she explained. "I didn't want you to feel like you had to live up to my version of perfection."
As a novice cook myself, I find that some cookbooks can be a little intimidating, and they don't always inspire the confidence I need to succeed in the kitchen. But Nosrat's culinary perspective and her charming personality — apparent in both the Netflix series and her cookbook — is really encouraging. Who knows, maybe I'll be inspired to whip up something fantastic tonight.