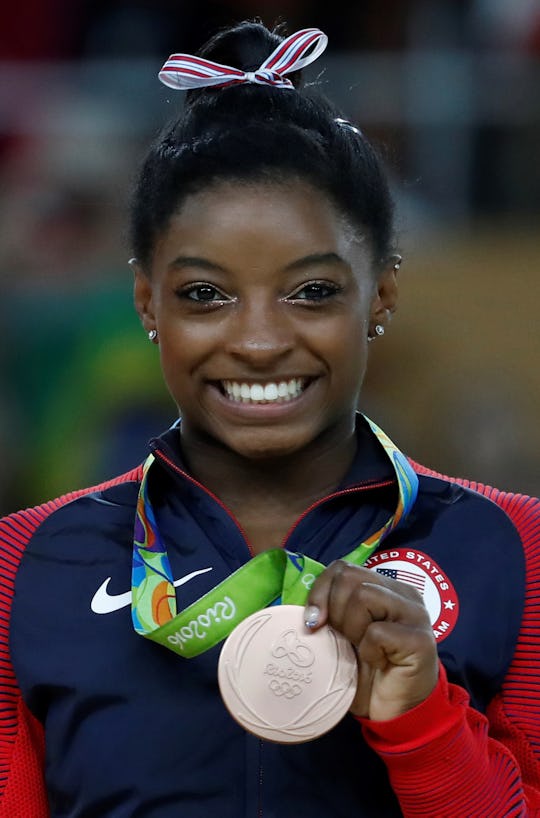 THOMAS COEX/AFP/Getty Images
Where Can You Buy Simone Biles' Merchandise? She's Every Little Gymnast's New Hero
For gymnastics fans, the name Simone Biles isn't new. She may have been too young to compete in London's 2012 Summer Olympics, but Biles has been the women's gymnastics all-around world champion for the past three years in a row, and is the most decorated American women's gymnast in history, with 14 total medals so far. But now that she's racking up those Olympic medals in Rio, some new fans might be inspired to take up the sport. Here's where to get Simone Biles merchandise, for fans who want to be just like their hero.
We'll start with the leotards, which are the cornerstone of any gymnast's wardrobe. Biles has an exclusive line of leotards through her partnership with sportswear manufacturer GK Elite. The brand offers a half-dozen different Biles-branded styles ranging from $50 to $70, each of which comes with its own matching hair scrunchie. GK Elite also offers replicas of the Team USA Olympic leotards worn by the Final Five. Most of the infamous 5,000 Swarovski crystals have been replaced with more affordable sequins, so fans needn't worry about having to pony up $1,200 for a piece of lycra; the replicas also range from a much more reasonable $50 to $70.
For those who want to crib Biles' entire Olympic look, Nike is offering civilians the chance to own the same warmup jacket Biles and her team wore as they posed with their gold medals for the team all-around, for the low, low price of $300. Sorry, I can't pretend that's not a crazy amount of money for a lightweight nylon and polyester jacket, even if the cuffs are "articulated to move with your wrist." I've had a lot of jackets in my lifetime, and not once has one disagreed with my wrist over which way to move. It's just a cuff; it's not rocket science. But still, for fans who want the look, it's the only game in town.
But clothes don't make the athlete. What about gymnasts who want to train just like Biles? They're in luck. She's also partnered with equipment manufacturer Spieth America for her own line of mats, bars, and beams, and the prices are actually comparable to non-branded merchandise. Hey, if you're going to fall on your face, you might as well fall on Simone Biles' signature, am I right? There's only one way to do it better: by training in the same gym as Biles. The World Champions Centre in Spring, Texas, is actually owned by Biles' parents, Nellie and Ron, and the Olympian really does train there with her coach, Aimee Boorman. The gargantuan facility even employs its own tutors, for athletes who don't have time for school. So will training at the WCC on Spieth mats while wearing a GK Elite leotard turn every gymnast into the next Simone Biles? No, but at least they'll look good trying.