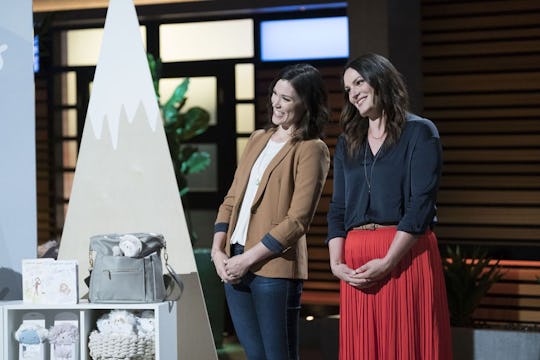 Eddy Chen/ABC
Parents Will Want This New 'Shark Tank' Product For Their Kids
A whole new group of entrepreneurs will come face to face with the Sharks on Sunday's episodes of Shark Tank. Amongst those trying to entice the Sharks are business partners and best friends Kelly Oriard and Callie Christensen. The pair are presenting their product, Slumberkins, which is a hybrid blanket and stuffed animal for kids. By the end of the episode you'll probably want to know where you can buy Slumberkins from Shark Tank, but first you probably want to know what makes these products so special.
Back in November 2015, Kelly and Callie were both new moms and on maternity leave together. While at home with their kids, they decided they wanted to recreate the traditional blanket kids always seem to love. After spending weeks teaching themselves how to sew, the pair realized they should incorporate skill-building routines and therapeutic techniques into the blankets. Thus they made Slumberkins, little creatures that are inspired by a positive life skill and promote positive attachments during kids' bedtime routines.
But how do they work exactly? Each creature has a different purpose, so depending on what you want to work on with your child, you can get the corresponding creature. For example, the Bigfoot plush toy is all about promoting positive self-esteem while the Slumber Sloth is meant to promote relaxation and attachment around bedtime. Each plush toy comes with a keepsake Slumberkins Affirmation Card and a free Sleepytime Rhyme so parents can practice the interactive routine with their child before bed. Parents can also purchase a fully illustrated Sleepytime Rhyme board book to accompany the plush toy.
Currently, it appears the only place to purchase a Slumberkin is from the company's website. The plush toys cost between $42 and $44, while the board books are $9.99 each. The women will most likely want a Shark to help them expand their brand and get their toys into retail stores and perhaps on Amazon. But will a Shark actually bite? Fans will just have to tune in this week to see, but this definitely seems like something the Sharks would be interested in.
The kid friendly product would definitely appeal to parents, and based on the website it looks like there is definitely an interest, as some products are already sold out. Additionally, it's an innovative product, and takes something most kids already use and makes it into an even better tool for parents to use with their children. However, the Sharks have surprised fans before so it's hard to know which way they'll go on this product. Hopefully, Kelly and Callie will be able to sway at least one of the Sharks to take them on.
Also facing the Sharks this week are two firefighters from Pembroke Pines, Florida, with a healthy, smoked fish dip. An entrepreneur from Chapel Hill, North Carolina will present The Cut Buddy, a hair- and beard-cutting template and a tech entrepreneur from San Francisco, California will show the ProntoBev, a device that chills an entire bottle of wine in just 30 seconds.
Obviously, this is sure to be another fun night on Shark Tank, filled with innovative and creative products that you'll want to buy immediately. But who will walk away with the money? If you're asking me (and why wouldn't you), I'd place my bet on Slumberkins.
Tune in on Sunday, Nov. 12 at 9 p.m. EST on ABC to see back to back episodes of Shark Tank. Trust me when I say you won't want to miss it!
Check out Romper's new video series, Romper's Doula Diaries:
Watch full episodes of Romper's Doula Diaries on Facebook Watch.