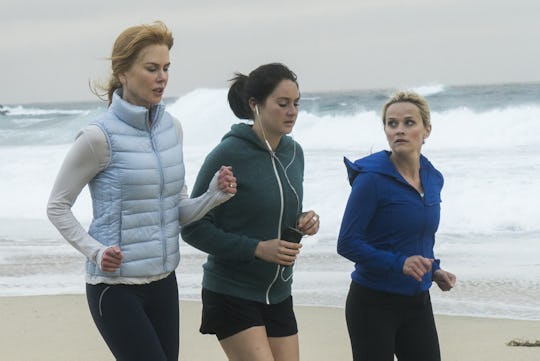 Hilary Bronwyn Gayle/HBO
Fans Are Loving The 'Big Little Lies' Soundtrack
Before it began, fans of the novel Big Little Lies may have wondered how the world that Liane Moriarty created would look in the HBO series. Of course, this is television, so everyone is gorgeous — though, everyone pretty much was in the novel as well. A distinct difference is that Moriarty set the story in Australia, which is a bit far from California, but the beaches and beautiful homes are pretty much on point. One noticeable addition to the story in series form is the music. Quite frankly, it's awesome. Where can you buy the Big Little Lies soundtrack though? I didn't know Jane and Ziggy would jam to Jefferson Airplane.
First off, who's responsible for putting together an awesome track list week after week? That would be music supervisor Sue Jacobs. She worked with Big Little Lies director Jean-Marc Vallée previously on Wild — and his style is no composer. He'd rather have characters guide the music, like Madeline's daughter Chloe in Big Little Lies (yes, she has the music taste that no real six-year-old probably has, but it's killer, so I won't complain). Jacobs spoke to Vulture about what working on the soundtrack for the series entailed.
When asked about the show's musical identity, Jacobs said, "It's all about tension, the whole push and pull of all of the music as a counterpoint." Big Little Lies may look beautiful on the surface, but viewers know it's a dark story; Jacobs and Vallée wanted the music to reflect that. The characters even have their own motifs, especially Jane. The music she listens to after her runs immediately put you in her angry, anxious headspace. This was done purposefully.
But where can you get your hands on the Big Little Lies soundtrack? Well, it doesn't seem like you can just yet. In the same Vulture interview, Jacobs divulged that she's received an offer for a soundtrack album. It doesn't appear to be on sale yet, but given how much the audience loves it, we shouldn't give up hope yet. In the meantime, websites like whatsong have compiled a list of songs in each episode. Furthermore, a kind soul called Ignatious Pop on Spotify compiled a playlist.
Viewers may have to wait a bit if they want to own the soundtrack, but you have the rest of the series to fall in love with the songs Jacobs and Vallée chose. Now, I just have one question: when is "Ziggy Stardust" going to play?