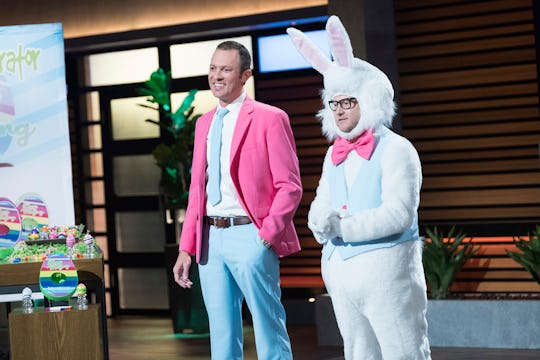 Eddy Chen/ABC
Easter Just Got Easier For Parents, Thanks To This New 'Shark Tank' Product
Shopping the Shark Tank products is nothing to be ashamed of, especially when they're as good as the egg decorator that will be featured on Sunday night's new episode. So where can you buy the Eggmazing Egg Decorator from Shark Tank so it arrives in time for Easter? Luckily, the process couldn't be easier.
Originally, it started out as a Kickstarter, where the egg decorator raised over $7,000 to get going. Now, you can buy it on Amazon or directly from the manufacturer for $29.99, which is a pretty good deal. You can also buy the Treemendous Christmas Tree Ornament Maker, too, which is the same sort of device, but for making homemade Christmas tree ornaments. Really, it's a genius idea.
The decorator was created by Scott Houdashell, who, like many parents, loved coloring eggs with his family, but hated all the mess it tends to create. In 2015, he got to work creating a prototype and then eventually found a manufacturer to fully realize his idea to help make egg coloring fun and clean. He then recruited his business partner, Curtis McGill, to get the device into peoples' homes by last Easter.
The device works by nesting a hard-boiled eggs on top of battery operated rubber wheels, which spin the egg around so you can color it, making stripes or designs, or whatever you please. All of your eggs will be Pinterest-perfect once you get the hang of it. It's safe for kids ages 3 and up and only takes four AA batteries to operate. You can see the device in action for yourself in the video below:
Houdashell said in a YouTube interview that he is a "woodworker at heart," and the first decorator he made was out of wood. But then he started researching 3D printers, bought one and a design program, and went to work cranking them out on his own, which is pretty impressive. He added that "besides being easy and fun, [the Eggmazing Egg Decorator is] about a family coming around the kitchen table and carrying on a tradition."
Houdashell explained, "No laptops, no video games, no cell phones, no mess," which is a pretty good tagline.
Obviously the products are already selling, but Houdashell wants is coming to Shark Tank to ask the investors to help with more distribution. The toy's patent pending, which definitely affects the Sharks decision.
Barbara Corcoran is one of the investors that Houdashell has to impress, which is a good thing, since she really likes people who are determined to get their product out there. She told Business Insider in an interview that she goes for the people who stand up for themselves.
"You'd think if you really tried something and you didn't get it that you would feel embarrassed but I never found that to be the case," she said. The fact that Houdashell taught himself how to design something for a 3D printer and made it happen all on his own is definitely Barbara-worthy. She loves a good story. Lori Greiner will also be pitched on the Eggmazing Egg Decorator, and she's all business. The Shark has said in the past that the most important thing for her is knowing the nitty gritty details about a product.
"You need to be accountable for and aware of every unit in the warehouse, every number on the books, every order coming in and you need to have ready answers for how you intend to plan for the future," she wrote in her book Invent it, Sell It, Bank It.
Whether or not the Sharks help the Eggmazing Egg Decorator to a mass market on QVC or stores everywhere, the good news is that you don't have to wait until they make it happen to buy one for the Easter season. Who knew you needed a motorized egg decorator so badly, right?
Check out Romper's new video series, Romper's Doula Diaries:
Watch full episodes of Romper's Doula Diaries on Facebook Watch.