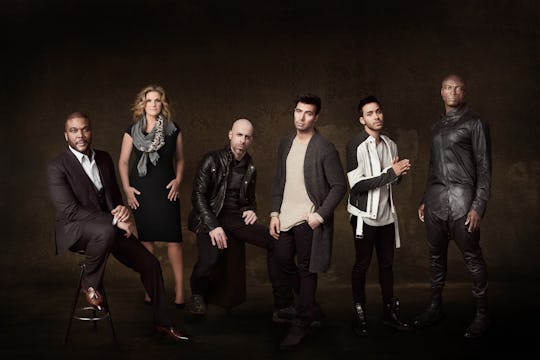 Michael Becker / FOX. © FOX Broadcastign Co.
Where Can You Buy 'The Passion' Soundtrack? It May Get Stuck In Your Head
Fox is the latest outfit to take on a Jesus biopic, and what's better, or, maybe, worse, is it's a live TV musical. For some reason, this genre has become a trend in the past few months following the success of NBC's The Wiz Live! and Fox's Grease: Live. Everyone wants to get in on the musical action, and since Easter is coming up, surely Fox said, hey, why not get in on The Passion? The musical puts a modern-day twist on Jesus' last days on earth and it's sure to be a toe-tapper (betrayal, love, crucifixion ... how could it not?). Afterwards, viewers may just wonder: where can you buy The Passion soundtrack anyway?
To give fans an idea of the what The Passion may be like, it was written by Peter Barsocchini of High School Musical, High School Musical 2, and High School Musical 3 fame. According to IMBD, the plot isn't straying much from the Biblical version of Jesus' death. The reported storyline follows "Jesus of Nazareth as he presides over the last supper, is betrayed by Judas, put on trial by Pontius Pilate, convicted, crucified and resurrected." So that's the whole Easter story, basically, set to a slate of songs most viewers will recognize, based on the track list for The Passion, which Entertainment Weekly posted in late February.
What isn't so familiar is the setting. The Passion takes place in the present — and in New Orleans. That's likely to add some zydeco or funk or other NOLA flavor to the performance. Being a live event, the musical will in fact be filmed on location, and according to The New York Times, the citizens of New Orleans may just be conscripted to join in by carrying a gigantic cross down to the banks of the Mississippi.
But, about that soundtrack — it will feature songs performed by Trisha Yearwood (as Mary), Seal (as Pontius Pilate), Chris Daughtry (as Judas), Jencarlos Canela (as Jesus), and Prince Royce (as Peter), all of whom play characters in the musical. The soundtrack goes on sale today, March 18, just two days before The Passion airs. Fans can preview and order it on iTunes. For the soundtrack, the musical writers have refashioned current pop songs to fit in with the story of Jesus' death and resurrection. Think Now That's What I Call Music but with a religious twist and live and hopefully very watchable. The track list includes a cover of Creed's "With Arms Wide Open," so that remains to be seen.
Tune in on March 20 at 8 p.m. ET to see the Easter musical for yourself.