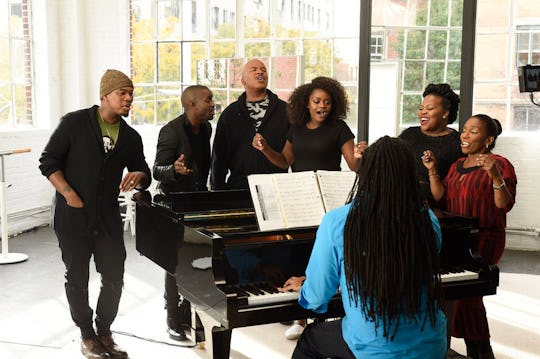 Where Can You Buy 'The Wiz Live!' Soundtrack? Here's How To Get Ahold Of The Soulful Songs
It's impossible to watch The Wiz Live! without belting along to the soulful beats. And once the show is over, you know you'll want to buy The Wiz Live! soundtrack so you can keep easing on the down the road. Well, for fans hoping to download the tuns as soon as the cast takes their final bow, you're in for a bit of disappointment. The Wiz Live! soundtrack won't be available until next Friday, Dec. 11. The good news, however, is that you can pre-order the soundtrack on Amazon for $12 or through iTunes for $11.
But, let's be honest. No one likes waiting. Especially if it's to hear Ne-Yo serenade you about lubrication. (If you don't get this, get thee to YouTube immediately!) One way to continue listening to Ne-Yo, Mary J Blige, Queen Latifah, and the rest of The Wiz Live! cast is to watch the YouTube videos on all day, every day. And — though we don't encourage this — you can easily illegally them to a mp3 file. But hey, you didn't hear that from us.
If you can survive on a sampling from The Wiz Live!, iTunes is selling "Home," the song Dorothy sings before embarking on her journey to the Emerald City.
But if you care more about the songs than the singers behind them, the solution, my friend is quite simple. All you have to do is purchase the original soundtrack. Featuring classic artists like Quincy Jones, Diana Ross, and the eternally talented Michael Jackson, the music from 1978's The Wiz will easily fill the void till Dec. 11. Hell, you may even like it better than tonight's performance.
Of course, if your need for Ne-Yo is just too strong, then you'll have to exercise some serious patience over the next eight days. But believe me, it's worth it.
Images: NBC Universal