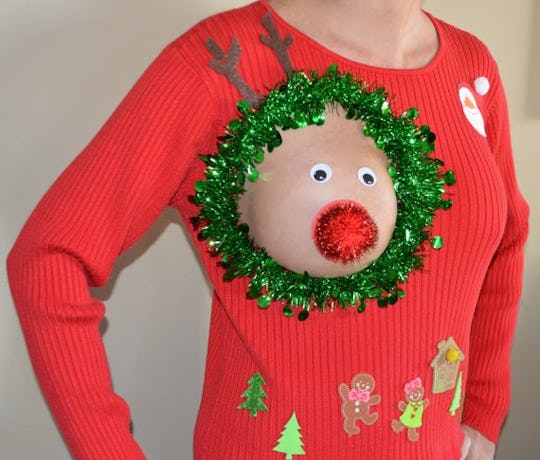 Etsy
Where Can You Buy An Ugly Christmas Sweater For Breastfeeding Moms? This Etsy Seller Has A Hilarious Option
Calling all breastfeeding moms: Your ugly Christmas sweater has arrived. Straight from Salt Lake City, Utah, an Etsy designer has made a Rudolph pastie sweater, complete with a very sparkly red nose to cover your nipple. Yes, really. It succeeds in being an ugly Christmas sweater, but it's probably not the best idea for breastfeeding. As the designer herself notes on her sales page, the little googly eyes could be a choking hazard, but, hey, you could always just yank those off. The designer also has one for men, so you and your SO or a friend can brave being all out there together.
The sweater started to go viral after a Facebook group called Beautiful Breastfeeding posted an image of the product. A lot of the comments focus around the fact that the model has a pretty perky rack, so it's not exactly truth in advertising. "I need it. But I think my boobs will sag," one commenter laughed. "The nose would just point down."
SassyGrandma, the Etsy seller, writes that the sweaters are also sustainable and one of a kind:
You will receive one red, green or multi christmas colored version sweater with a variation of Christmas characters attached and the reindeer eyes and nose pastie. I use 'Up-Cycled' Sweaters to help the environment and save you money! So no two sweaters are a-like.
The seller also offers a sweater with a stocking attached to it that fits a bottle of wine. And one with little pockets you can stuff brews — or pumped milk! — into for extra holiday cheer.
It's completely absurd and everything you didn't know you needed all at once. Yours for 50 bucks. It's sort of a steal.
Image: YourSassyGrandma/Etsy (3)