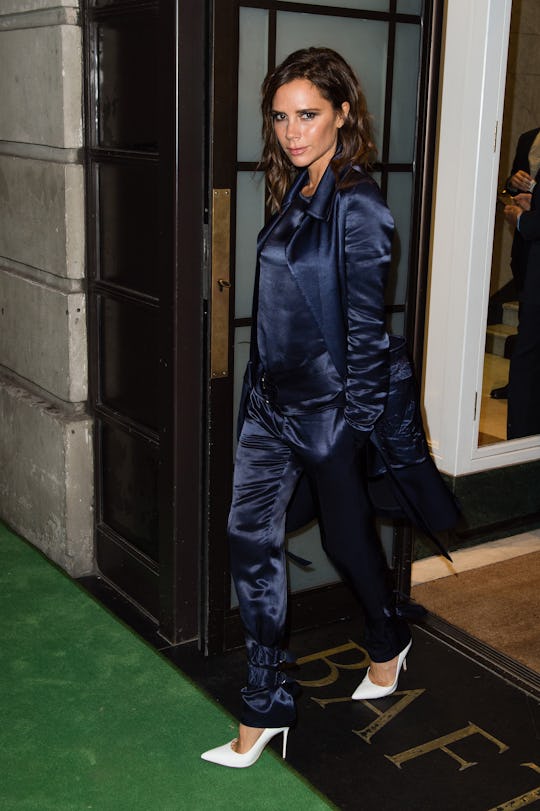 Jeff Spicer/Getty Images Entertainment/Getty Images
Where To Buy Victoria Beckham's Children's Line
Budget fashionistas should be on red-alert, because soon you'll be able to buy clothing designed by former Spice Girls member Victoria Beckham at reasonable prices. Even better: the line includes clothes for children. So where can you buy Victoria Beckham's children's line?
The most exciting thing about Beckham's line is that it's a collaboration with Target. Although select pieces will be available on Victoria Beckham's website, if you want to shop the full collection, you'll need to head to a local Target near you.
Beckham told Refinery29 that designing a children's line is something she's always wanted to do. "It's been a dream of mine to do so for a long time; Harper's been wearing the collection already, and she loves it," Beckham said. She also told People that she had fun designing the kids line "because I felt I could use my own personal experiences and tell a story through the clothes."
The line sounds like a lot of fun. Today reported that the women's line will coordinate with the kids' clothes, which is adorable. The collection will also include a coloring book, paper doll set, and a sticker collection. Beckham told Elle that her 5-year-old daughter Harper helped advise her when creating the fun set, and that "she's excited to get her hands on the full collection."
Mark Tritton, Target's chief merchandising officer told Refinery29:
Not only did Victoria provide a very specific design point of view on the clothing, which we were all expecting. The hands-on experience she has as a mom to help us understand how high the armpit should hit, or where the seam could go on a kids' item.
Harper was a big influence on Beckham's designs for the children's line, she said in an interview with Elle:
I mean Harper, as much as she loves dressing and being quite girly, she's also a bit of a tomboy. She's got three brothers...She wants to look good but she also wants to be comfortable.
I'm sure many of you are wondering: why did Beckham, who is known for her elegance and was once known as Posh Spice, decide to collaborate with Target? "For a while now, I have wanted to offer something to a wider group of women, who either don't want to, or can't afford to spend designer prices," she told People. "I am still amazed I was able to create a collection of this size and quality that is both affordable and available to a more mass audience.
Beckham told People she chose Target specifically because she's a fan of their previous collaborations, which have been wildly popular and included huge names such as Isaac Mizrahi. "Seeing the great collaborations Target have produced in the past was one of the main reasons I wanted to work with them – they're really experts in their field!" she said.
But Beckham may have also chosen Target because the store let her have so much control over the line: "I am a bit of a control freak, and Target was very open to the fact that I wanted to be so involved," she told Refinery29.
The collection will only be available from April 9 to April 30, and it's sure to sell out fast. So if your little one wants to look posh (I couldn't resist), be prepared for some long lines.