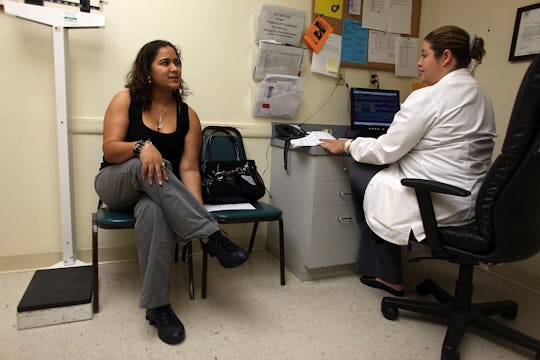 Joe Raedle/Getty Images News/Getty Images
Where To Get Maternity Care If Insurance Won't Cover It
The American Health Care Act may be dead, but that doesn't mean Republicans have given up on replacing Obamacare. Judging by recent comments made by the president and several Republican senators, it seems repealing the Affordable Care Act is still very much a priority for the Trump administration. With that in mind, women across the United States have been bracing for any health care changes that could affect them, including the possible removal of Obamacare's Essential Health Benefits (EHBs) mandate. Which raises the question: Where can you get maternity care if it's not covered by insurance?
One option, for those who qualify, is Medicaid (that is, if an Obamacare replacement doesn't interfere with Medicaid coverage). Another is the Children's Health Insurance Program. According to the U.S. Centers for Medicare & Medicaid Services, both Medicaid and CHIP cover pregnant women and their children, although eligibility requirements and benefits differ for each program and vary by state.
According to The Bump, Medicaid's income eligibility levels are also higher for pregnant women, so women shouldn't automatically assume they won't qualify for the program. The Women, Infants, and Children Program can also provide a certain amount of low-income women with health care referrals, as well as healthy food and information.
Many states will have their own state health insurance programs, and you can find groups in your community to help you navigate your options using Healthcare.gov's Local Help section. Many hospitals will also have non-profit assistance and will allow patients to pay on a sliding scale or set up a payment plan, according to the American Pregnancy Association. Expectant mothers can also dial 1-800-311-BABY in order to talk to their local health departments about options for free or reduced-rate prenatal care. You can also find community health centers, which allow non-insured patients to pay on a sliding scale — but make sure to call ahead and see if maternity care is offered.
Working with a birthing center for your child's birth and prenatal care is another option for those who don't have high-risk pregnancies. According to the American Pregnancy Association, costs at birthing centers can be about half of what they would be at regular hospitals.
A few organizations, such as Planned Parenthood, also offer prenatal care and have discount fee scales, as well as federal funding for select services. According to Verywell, moms can also look for local medical schools, which will frequently have prenatal care clinics staffed by trained, qualified doctors and often charge based on a sliding scale.
Hopefully maternity care will continue to be covered by insurance for women across the United States — but if not, make sure you find the care you need. It may be a little trickier to find, but every state should have maternity care help for women who need it.