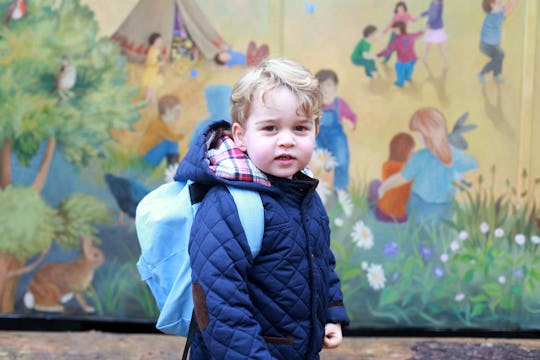 Where Can You Get Prince George's Back To School Outfit? Because, As Usual, He Is A Tiny Style Icon
Wednesday was a pretty major day for the royal family. Prince George, the little guy third in line for the throne, took a big step up the educational ladder: he started nursery school. The entire internet did a collective swoon when pictures of Prince William's adorable son hit the internet. Of course, the cuteness factor was the first thing most people noticed. For others, his royal blue, snap-front quilted jacket and robin egg blue backpack sparked another question: where can you get Prince George's back-to-school outfit.
It's no surprise that Prince George's little outfit would be an instant sensation. The toddler prince's style — or rather, his mom, Kate Middleton's, incredible style choices — have been closely followed since his very first coming-home outfit. And pretty much anything the young royal wears flies off of store shelves. While watching his dad play polo last year, George was spotted wearing a cute set of Neck & Neck overalls — they sold out instantly, according to Vogue magazine. He makes Crocs sales surge and sweater vests sell out. The Bible of men's fashion, GQ, named him the 49th best-dressed man in Britain in 2015.
So anyone looking to replicate his latest look will need to move fast.
Of course, if you happen to have the the financial resources of the British crown at your disposal, getting his schoolboy look becomes instantly doable. But even without the budget of a British royal, there are more than a few options for replicating Prince George's look. And, thanks to the Internet, many of the essentials for getting Prince George's look are easy to find.
That Adorable, Quilted Coat
Us Weekly reported that the young prince's quilted coat, lined in red plaid and featuring sporty suede elbow patches, was made by British fashion House John Lewis. The outlet reports that Prince George's exact coat has already sold out, but other similar styles are available for around $52 at JohnLewis.com. But there's a similar look on RalphLauren.com for around $30.
And His (Perfect) Backpack
In the two photos released by his parents, the future king is seen wearing a light blue backpack with an extra pocket in the front (for all the cute pictures he'll draw in nursery school). Vogue magazine suggested this cute version from Fjall Raven, available for $65.
There Must Be A Snazzy Sweater Under That Coat
It's not easy to tell from the photos, but it's probably safe to say that the littlest prince is wearing a cute sweater under that trendy coat. This Ralph Lauren waffle-knit sweater would certainly keep him feeling cozy all day ($45).
He Also Probably Had A Cool Lunchbox
Finally, no first day of school outfit is complete without a sweet lunchbox, am I right? Beatrix NY has this Nigel the Shark lunchbox available online for just $34.
With just a few cute touches, any adorable little boy can get the toddler prince's newest look. But, if Prince George's prior style choices are any indicator, any fashion-conscious parents out there should move quickly! All of these are likely to go out of stock fairly soon.
Images: RalphLauren.com (1, 2); Fjallraven.us; BeatrixNY.com