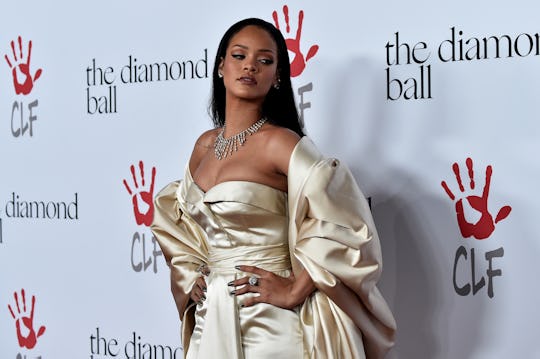 Where Can You Get Rihanna's 'Work' Single? She Finally Dropped The First Track Of 'Anti'
On Wednesday morning, Rihanna released "Work," a single featuring Drake, and the internet couldn't have been happier on hump day. Not much is known about the new track (will her new album Anti immediately follow?) except that it was produced by Boi-1da, who is behind songs like "The Blacker the Berry" (Kendrick Lamar) and "Believe Me" (Lil Wayne), Pitchfork reported. But one thing fans will first notice is that the song isn't available everywhere. How can you get Rihanna's "Work" single? The link Rihanna provided doesn't lead to Spotify.
"FIRST SINGLE #WORK ft. @Drake from #ANTI is here!! Listen up," the singer announced on Twitter Wednesday. And fans will be more than elated to know that more music is on the way. According to Billboard, Rihanna's next album, Anti will be released this week after months of delays. But it's unclear whether it will be available everywhere for fans' listening pleasure. Rihanna may take a page from Adele and Coldplay, whose most recent albums slowly made their way to Spotify or stayed off the service all together, Billboard reported.
What makes this possibility more likely is the fact that Rihanna is one of 16 shareholders in Tidal, a streaming service birthed by Jay Z. So it should come as no shock that "Work" can only be heard on Tidal as of right now. But, Pitchfork reported that fans can listen to a radio rip at Rapdose.
But if there is any chance Rihanna's looking at the internet's reaction to this release, she may decide against the move. A quick look at Twitter and it is apparent that most people are less than thrilled about the track's exclusive drop on the startup streaming service. "Does anyone have a link of where else I can listen? I don't have Tidal and I'm not signing up," Perez Hilton tweeted in response.
Yet, "Work" being only available on Tidal may give the company the boost that it needs. An alternative to Spotify and Pandora, Tidal has hit a ton of roadblocks since being unveiled in late October 2014. In November, The New York Times reported that Vania Schlogel, Tidal's equity executive was the third higher-up to leave the company in three months. "While I am excited about my next venture, which is outside the music industry, I wish Tidal nothing but the best and am proud of the dialogue it has catalyzed to date. I hold the highest degree of respect for each of the artists who have advocated for this dialogue and who display a genuine care for the industry," she wrote in a statement to the Times.
And since Tidal was supposed to delve away from the freemium models boasted by the likes of Spotify, this move was in the cards. Instead of listening through ads to enjoy content (or paying monthly to forego them), users purchase a monthly subscription to not only enjoy exclusive songs like "Work," but to get first dibs on concert tickets.
For now, Spotify users will have to cross their fingers for a music video — or hope they know someone with a Tidal account.
Image: Alberto E. Rodriguez