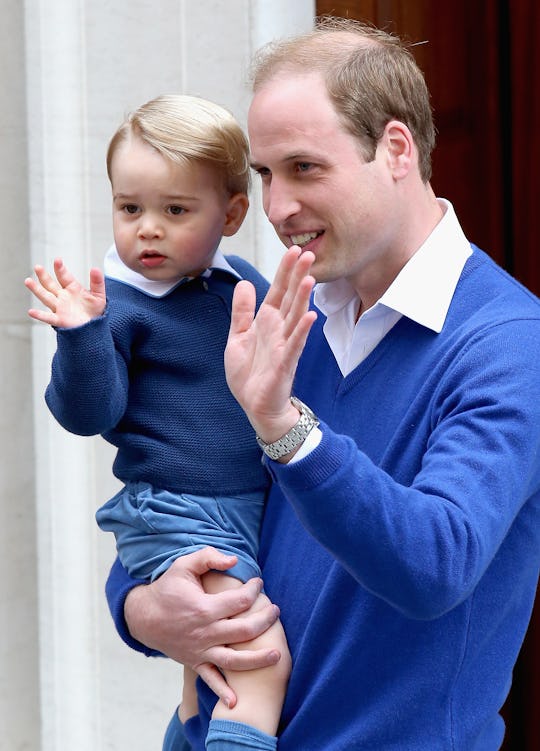 Chris Jackson/Getty Images Entertainment/Getty Images
Where Can You Get The Winnie The Pooh & Prince George Book? Parents Can Get It For Free
It was a big year for Queen Elizabeth II — she turned 90! — but she wasn't the only one celebrating that impressive milestone. Beloved children's character Winnie The Pooh also turned 90 this year, according to TIME, and in a new book, Winnie-The-Pooh and the Royal Birthday, the two meet for the first time, when Winnie The Pooh travels from the Hundred Acre Wood to London to read the Queen a special birthday poem. If that wasn't adorable enough, the book also features another special royal appearance: Prince George also shows up in illustrated form, and receives a red balloon from Piglet (cuuuuute!). Where can you get the Winnie The Pooh and Prince George book? The book, written by Jane Riordan and illustrated by Mark Burgess, is actually available to download for free from Disney, with an animated audio reading read by Oscar winner Jim Broadbent available to stream on YouTube.
The sweet story begins when Christopher Robin tells Pooh of the Queen's upcoming birthday. Pooh and his friends, Piglet, Eeyore, Owl, Rabbit, and Kanga, all decide to bring her a birthday present. When Pooh finally spots the Queen — and summons up enough courage to go read his poem to her while he has the chance — they are surprised that she has a young companion (Mr. Third-In-Line-For-The-Thone) by her side:
Behind The Queen ran a little boy. He was much younger than Christopher Robin and almost as bouncy as Tigger. He caught sight of Piglet and the balloon and he jumped up and down in delight. The little boy patted Piglet fondly and tickled Winnie-the-Pooh's ears. Piglet handed him the beautiful balloon and he giggled and skipped away with it.
Even though the Queen and Prince George are clearly the stars of the show in the special book, the story is also a pretty fitting tribute to the city of London as well, according to E! News. Christopher Robin, Pooh, Piglet and Eeyore all head by train to Victoria station, and pass by landmarks like Trafalgar Square, Big Ben, and — of course — Buckingham Palace on their way to meet up with the Queen.
Interestingly, this wasn't the first time that Winnie The Pooh has honored the Queen on a special day: according to TODAY, Winnie The Pooh creator A.A. Milne dedicated his 1926 book, Teddy Bear and the Other Songs from When We Were Very Young, to a then-Princess Elizabeth to mark the occasion of her birth.
So what did Pooh and his friends think of their big moment with their country's monarch? She was "just as Queenly and smiley and wonderful as they had expected her to be." And, after meeting her, Pooh came to one very important conclusion: "It must be a very great thing to be ninety years old."
I imagine he is probably right.