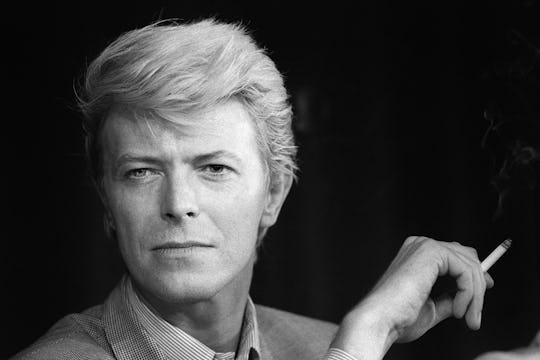 Ralph Gatti/Getty
Where Can You Listen To David Bowie's 'Blackstar'? His Goodbye Album Has Debuted At No. 1
David Bowie might have been a musical legend whose decades-long career spawned countless hits, but one of his biggest accomplishments happened this week, and sadly, he's not around to see it. David Bowie's final album Blackstar debuted at No. 1 on the Billboard 200 chart this week, making it the musician's first-ever number one album in 44 years on the Billboard charts. Blackstar, released on Bowie's 69th birthday and only two days before his death, also marked the first posthumous No. 1 album to top the Billboard chart since This Is It by Michael Jackson in 2009.
Even though Blackstar received wide critical acclaim following its release, public interest in the album spiked significantly following the news of Bowie's death. And making the album even more important was the realization that Blackstar was not only Bowie's last album, but it was intentionally created to be Bowie's final album before his death. Bowie's producer and friend Tony Visconti released a statement on Facebook following the star's death, saying that Blackstar was Bowie's way of saying goodbye:
His death was no different from his life - a work of Art. He made Blackstar for us, his parting gift. I knew for a year this was the way it would be. I wasn't, however, prepared for it.
So where can you listen to Blackstar, an album that Rolling Stone called "Bowie's best anti-pop masterpiece since the Seventies," and which The Telegraph called "extraordinary"? Blackstar can be downloaded on iTunes and Amazon, or streamed on both Apple Music and Google Play. The entire album can also be streamed for free on Spotify, and Stereogum has streaming audio of each song on Blackstar so that they can be listened to individually.
While it's a shame that David Bowie isn't here to celebrate his first Billboard No. 1 album, it definitely seems like a fitting send-off to such a trailblazing musical icon.
Image: Ralph Gatti/Getty