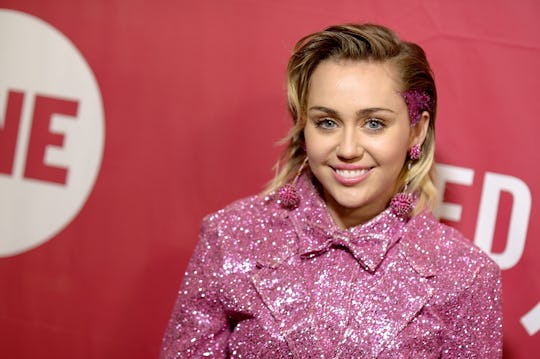 Where Can You Listen To Kanye & Miley Cyrus' 'Black Skinhead' Remix? It's Finally Out
After the 2013 Grammy Awards, an unlikely pair of collaborators, Miley Cyrus and Kanye West, locked themselves up in the studio to make music magic. The result of those sessions has remained an unreleased mystery until Thursday, when a remix of "Black Skinhead" was leaked online. But now the question is, where can you listen the "Black Skinhead" remix? The track is all over the internet, but who knows for how long it will be there.
SPIN reported that a version of the "Black Skinhead" remix was leaked on the web Thursday morning. But based on the sound quality, unmastered tracks, and disjointed feel, this is most likely an unfinished version. Even so, it's a mesmerizing — if not at times off-putting — listen. It gives amazing insight both into what happens behind the scenes of a recording session and the talent of these two oft-bemoaned musicians.
The tune is carried by Miley Cyrus singing the melody of Tears for Fears' "Everybody Wants to Rule the World" over a heavy beat and shrill instrumentation. Why Tears for Fears? Who knows, but why not? Fans weren't going to escape a West collaboration without West taking it upon himself by belting out an autotuned solo, which he does near the end of the song, thankfully accompanied by a soulful organ. It's a bizarre mix, but somehow it works. The two aren't the only artists on the track. Travi$ Scott also makes a lovely guest appearance. Give it a listen here or here on Vulture.
West's verses are in his signature style: breathless, and discussing the audacious wealth of Romans, Trojans, and himself. Regardless of the well-worn territory, it's refreshing to hear him and Cyrus taking some risks and mixing it up. Fans are loving it.
After thousands signed a petition to stop West from making a David Bowie tribute album, this may be just the comeback he needs. Perhaps the lesson here is to emulate Bowie's inventiveness, not just cover it.
Image: Dave Kotinsky/Getty Images Entertainment