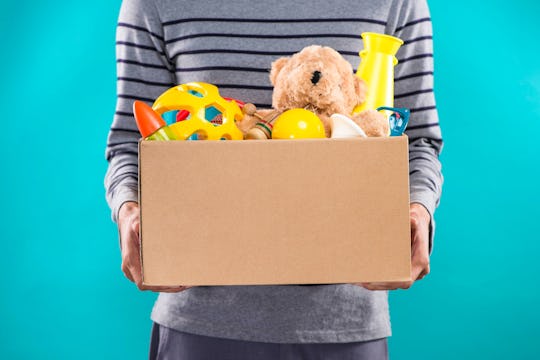 makistock/Fotolia
Here's Where You Can Recycle Or Donate Toys After Christmas (& Get Your House Back)
The holiday season can be tough, stuff-wise. Even if you choose to be minimalistic when it comes to gifts, there's really no telling what your family and friends (read: grandparents) are going to do and the amount of stuff you accumulate can be overwhelming. And, now that Christmas is over, you're probably wondering how you, your family, and all of your kids' stuff are going to fit in the same house. Your instinct might be to just start tossing things, but it's good to consider the alternative. So, where can you recycle or donate toys after Christmas?
There are many wonderful ways to give back to your community, and toy donation is definitely one of them. If you have new toys you'd prefer to donate instead of return or exchange, there's a number of places you can give. Local children's hospitals are always a favorite place to give new, unwrapped toys. Because hospitals have to be so protective of their littlest patients, they typically have strict hygiene requirements, and don't accept used toys. They are always in need of new, clean things, though. Just check their website for their wish lists, or contact the volunteer organizer to inquire about what they need.
Your local day care, preschool, or elementary school may also be in need of new toys and art supplies, as well. Contact your local school and see if they will accept a few choice items. This can help to make a small, but positive impact directly on your own community.
Beyond those, there's a few great ways to donate both used (in good condition without any missing pieces) and new toys that you may not have intitially considered.
Local Women's & Children's Centers
Do a search for a local women's shelter or children's center (like Boys & Girls Club), and give them a call. There's a good chance they'll gladly accept your toy donations — after all, toys can be of great comfort (and distraction) to the children at these places, just like they are to all children. You can use the Homeless Shelter Directory to find some in your area.
Stuffed Animals For Emergencies
This awesome organization provides stuffed animals (and books and blankets) as comfort items to children in crisis situations. Given the amount of hurricanes, tornados, and wildfires we've seen recently, and the impact those kids of disasters can have on little ones, this is a simple and impactful way to help. The best part is the SAFE does not sell your donations; all of your gently used, stain- and tear-free stuffies will go directly to kids in hard times. Check out their website to find a location close to you.
Second Chance Toys
Second Chance Toys aims to keep non-biodegradable plastic toys out of landfills by repurposing them for local disadvantaged youth. The organization truly believes in the value of good imaginative play for young children, and wants to make an impact, while being environmentally conscious at the same time. Check their website for a local collection center, and if there isn't one near you, consider hosting a used toy drive (clean, plastic toys without missing parts or pieces) for their benefit. They'll arrange drop off to a local center in your area if you can collect more than 50 toys, and will even provide you with promotional material.
Donation Town
If you're coming up short on local places to donate to, check out Donation Town. This organization makes things easy for those wanting to donate toys, but are not sure where to go. You can schedule a pick-up for your donation, and choose the local charity it goes to.
Many organizations more prevalent around the holidays, like Toys for Tots, don't often accept toy donations year-round, but returning new toys for cash and then giving a monetary donation to Toys for Tots, or other reputable local charity, is always a good option as well.
If your toys are in bad shape and need to be tossed, remember to try to recycle them first. A lot of toys can be separated and recycled (fabric pieces from dolls, metal or cardboard pieces, etc.), and many plastic toys have recycling identification numbers. It's worth the effort to try to recycle it before just trashing it.
In any regard, donating or recycling toys (and other household items) always hold good lessons and conversations for kids of any age. Be sure to involve them in the process, and make giving to others a family affair.
Check out Romper's new video series, Romper's Doula Diaries:
Watch full episodes of Romper's Doula Diaries on Facebook Watch.