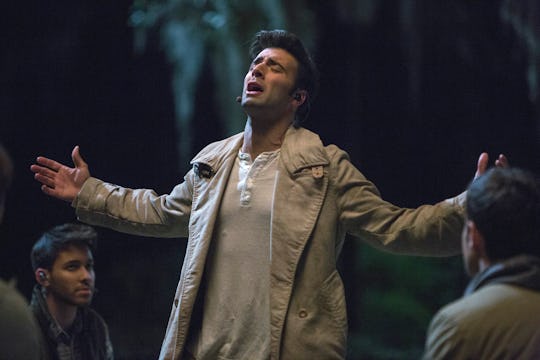 CR: Michael Becker / FOX
Where Can You Rewatch 'The Passion'? Don't Worry, You Have Options
On March 20, FOX is turning one of the most well known stories in the world into a live TV musical extravaganza. What story, viewers may ask? Just Jesus' last days on earth. The Passion is Fox's modern take on the Biblical ascension story, and with its star-studded cast and crew, it's promising to be a big production, to say the least. It may even become a new Easter tradition. If it does, here's where you can rewatch The Passion so you don't miss out on this classic-in-the-making.
The Passion will air on Sunday, March 20 from 7-10 p.m. ET. FOX will make it available for streaming if viewers prefer to watch it online instead of through their cable provider. If you miss it, don't worry; The Passion will become available for streaming the day after it airs, with or without a cable provider, on FOX.com and through the FOX NOW app.
Fans of High School Musical, High School Musical 2, and High School Musical 3 should be sure to tune in. Peter Barsocchini, the man who brought us the High School Musical series, is doing the music for this live event. Though it's sure to have the same comedic flair and toe-tappability, this time Barsocchini is taking on a much more serious topic. Even if it is set in modern-day New Orleans, the story still follows the events surrounding Jesus' death, according to IMBD. Barsocchini may have been taking inspiration from the setting of the musical by reworking pop songs for the soundtrack, rather than writing original music. Based on the track list for The Passion, which Entertainment Weekly posted in late February, the musical should have real singalong potential, especially since so many of the tunes are catchy Top 40 hits.
Besides the music, the production itself is not to be missed. The Passion will be filmed live, on location in New Orleans. It promises to not only be a beautiful and spectacular tour of the city, but it also will be quite a spectacle. According to The New York Times, the people of New Orleans may just play a starring role as extras, dancers, and, apparently, as penitents carrying a gigantic neon cross from the stadium to a stage on the banks of the Mississippi River. What remains to be seen is if the writers will use the setting and story of persecution to draw connections to modern day racial inequality and police brutality.
If you are looking for a new Easter weekend tradition, tune in on March 20 at 8 p.m. ET to check out this live musical event. But, remember, if you miss it, you will have plenty of chances to catch all the performances, songs, tense moments and sweet nothings in the days that follow.