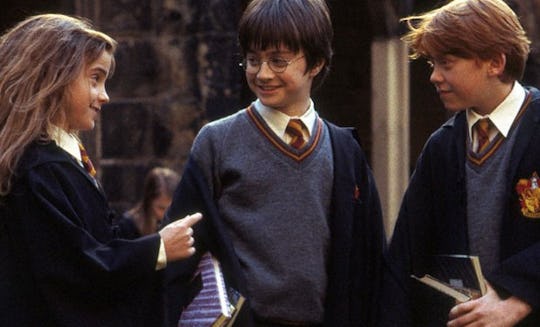 Where Can You See 'Harry Potter' In Theaters? The Wizarding World Is Returning To IMAX
Exciting news for Potter-heads everywhere! The Hogwarts poster boy is flying back to a theater near you for one week starting Thursday, Oct. 13. During this week, all eight Harry Potter films will be screened at select theaters in IMAX 2D. Along with the opportunity to finally see the basilisk up-close and personal, you also get a first look at J.K. Rowling's newest concoction, Fantastic Beasts and Where to Find Them, which debuts Nov. 18.
Stepping back into the Harry Potter universe is almost a prerequisite to meeting Fantastic Beasts' Newt Scamander (Eddie Redmayne), who is responsible for a book that Harry, Ron and Hermione eventually study in school. This one week engagement also marks the first time viewers will be able to absorb the visuals of Harry Potter and the Sorcerer's Stone and Harry Potter and the Chamber of Secrets in IMAX.
Even if you've already seen the movies, revisiting Hogwarts with the large screen format takes you on a trip unlike one you've taken before. A giant screen enchants as effectively as any spell.
According to IMAX Corp., "the crystal-clear images, coupled with IMAX's customized theatre geometry and powerful digital audio, create a unique environment that will make audiences feel as if they are in the movie." Therefore, you can expect to practically feel the wind blow through your hair as Harry whizzes by trying to catch the golden snitch. You can also see the scowl of the sorting hat in a remastered light.
If that isn't enough of a reason to buy some tickets, just imagine being able to check out the pores on Voldemort's lack of a nose?
Furthermore, Greg Foster, CEO of IMAX Entertainment and senior executive vp of Imax Corp., claims that "Harry Potter is one of the most beloved film franchises of all time and is incredibly important to the history of IMAX." So, when you revisit the on-screen magic that is the Harry Potter franchise, you become a part of the very tapestry of IMAX, and, in a sense, cinematic history.
So how do you get your muggle hands on some tickets?
According to the IMAX Corporation Press Release:
"Tickets will be available by means of four separate admission packages: Single Ticket; Day Access (admittance to three or more shows in a single day); Four-Show Access (admittance to four shows any time, any day); and Festival Access (unlimited admittance throughout the event). Packages offered and pricing may vary by theatre."
Consider IMAX.com/HarryPotter, your 9 and 3/4 platform. Go there for all movie showtimes, event details, and to buy tickets.
If you don't think you can wait 10 days to get your fantastic fix, you can always step up your wizarding game by flipping through the pages of Harry Potter and the Cursed Child, or heading to the Wizarding World of Harry Potter theme parks.
Come join "the boy who lived" for a limited time in IMAX for a story that will never die.