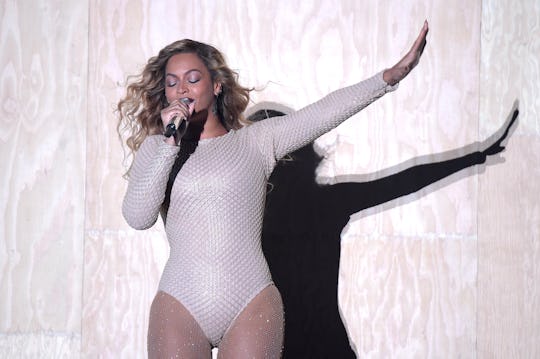 Theo Wargo/Getty Images Entertainment/Getty Images
Where Can You See The Beyonce Formation Film? Her Last Album Release Gives Some Clues
For months, Beyoncé and her crew have dropped hints that she's due to release her next album. And, on Sunday, Queen Bey's Twitter fan club The BeyHive confirmed that the pop star would release her sixth studio album in April. They also confirmed that Beyoncé would release an album "mini film" at the same time. So where can you see the Beyoncé Formation film when it's released? Like so much about her next album, the pop diva is being tight-lipped — a title and full track listing beyond her hit single "Formation" haven't even been announced — but looking at how she rolled out her fifth album provides fans with some clues.
Here's what fans do know about Beyoncé's sixth album so far: It will be released in April before her Formation World Tour, which kicks off in Miami on April 27. Her new album will be performed on the tour as well. The BeyHive described the Formation World Tour as "aggressively political & controversial" in a tweet on March 17. The no-nonsense release of her stunning "Formation" music video and single the day before her amazing Super Bowl 50 performance hints that the album film could very well be her most powerful film yet.
With the forthcoming release of Beyoncé's latest album in April, her Formation film would be her third such album film, having produced both Year of 4 for her 2011 album, 4, and a five-part documentary for the release of her self-titled album in 2013. If you remember, the release of Beyoncé was a huge deal at the time, as the complete album and album film consisting of the five-part documentary and individual music videos for each track all dropped on iTunes with no prior announcement.
Let's look at how she released Beyoncé: the album and album film hit the iTunes store as digital downloads on December 13, 2013. The first video of her five-part album documentary was also released that same day on her official Facebook page. A week later, all five videos of the documentary were up on her YouTube Vevo channel — the same day her CD and visual album DVD were released. It would be almost a year before Beyoncé released all 17 videos from her fifth album on YouTube. And, of course, all of her videos are forever enshrined on her website, Beyonce.com.
So what does this mean for her Formation film? Fans can probably count on having to pony up some money to get access to her latest album and accompanying film, just as she did with Beyoncé. Since "Formation" itself was first released on Tidal, there's a good chance Beyoncé will use the platform to initially release the album; fans should be prepared for some period of exclusivity on Tidal, not unlike the release of Kanye West's The Life of Pablo. No matter when Beyoncé's sixth album comes out, Tidal will definitely be involved, what with that whole "married to the owner" thing and all.
From there, perhaps a slow drip of sources not unlike what she did for her fifth album: Facebook, Vevo, and a year's delay on a complete release of videos on YouTube. Then again, maybe Queen Bey will surprise us all by releasing her mini album film on YouTube, no strings attached. Her fans can only hope.