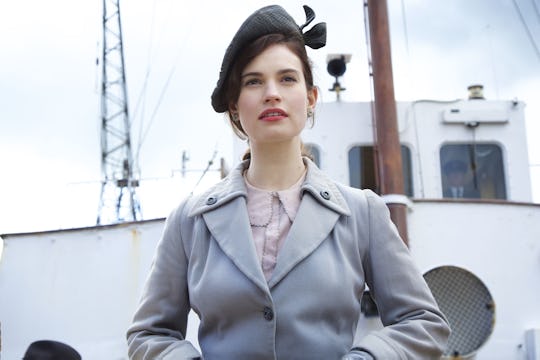 Kerry Brown/Netflix
Here's Where You Can Watch 'The Guernsey Literary & Potato Peel Pie Society'
American fans of the 2008 New York Times bestseller from Mary Ann Shaffer and Annie Barrows won't have to wait much longer to watch the British film adaptation, which released in the UK last April. So where can you see The Guernsey Literary and Potato Peel Pie Society? It found a home on Netflix. The historical romance takes place in post-war England and follows fictional author Juliet Ashton on her 1946 book tour across the country. Along the way, she receives a letter from a man on the island of Guernsey named Dawsey Adams, and upon learning about his secret society, chases down the inspiration for her next story.
Don Roos, Kevin Hood, and Thomas Bezucha wrote the screenplay, adapting Shaffer and Barrows' epistolary novel. Mike Newell, of Harry Potter and the Goblet of Fire fame directs. The film was well-received when it first premiered in the UK, and, given Americans' undying attraction to British romances, it's posed to do well here, too. Joining Lily James — fresh off her admirable effort to channel young Meryl Streep in Mamma Mia: Here We Go Again — are Matthew Goode and Jessica Brown Findlay.
Goode plays Sidney, Juliet's editor, and Findlay plays Elizabeth, the founder of the secret society that gives the book and movie its name. As you may have guessed, Dawsey, who's played by Game of Thrones' Michiel Huisman, becomes a romantic interest for Juliet, which is complicated by the fact that she has a very wealthy American boyfriend back home. When he appears on the island chasing after his adventurous girlfriend, he stumbles in on her in Dawsey's arms. (It's all very Titanic.)
But Juliet's intentions really are to chase down a story — at first, anyway. The island of Guernsey has a fascinating (true!) and relatively unknown history that captivated the novel's author from her first visit in 1980. A small island in the English Channel, Guernsey, along with the rest of the British Isles, was left undefended by British troops during World War II. They weren't considered to be strategically important to maintaining a stronghold on the mainland, so when Nazis invaded the tiny island, they swiftly occupied it. About half the population of Guernsey was able to escape, with many cases of children being separated from their parents. But the rest of the island's residents were forced to live under a Nazi regime, slowly starving as their agricultural resources were siphoned off to feed German troops.
The film's title is an allusion to the secret book club which was devised as a cover to dodge the strict curfew placed on residents by Nazi forces. Potato peel pie was among the inventive recipes islanders had to come up with to survive with so few resources. Ultimately, the film offers a fascinating glimpse into an overlooked moment in British history, and fans of the book are definitely looking forward to its release. The Guernsey Literary and Potato Peel Pie Society drops on Netflix on August 10.