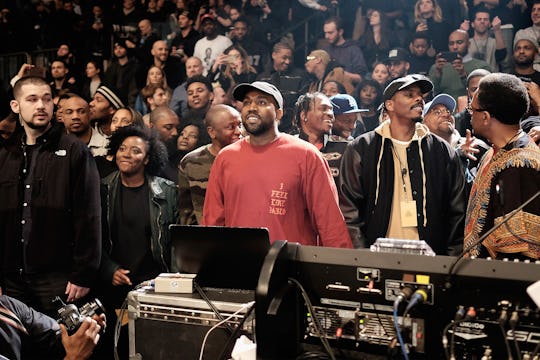 Dimitrios Kambouris/Getty Images Entertainment/Getty Images
Where Can You Stream 'I Love Kanye'? Many More Places Than Kanye Originally Promised
The widely anticipated seventh studio album from rapper Kanye West — The Life of Pablo — has been beset with drama since before its February release, from recording delays to swapping out new song mixes once the album was released. So far, songs from The Life of Pablo have finally been released for streaming outside of TIDAL, the artist-owner backed music streaming service celebrating its first year on Wednesday. Where can you stream "I Love Kanye," the second single to be released from the album? You'll have a few online streaming options from which to choose, depending on your platform and music player preference.
Despite a tweet from West in February stating that The Life of Pablo would be permanently available exclusively through TIDAL — specifically that his "new album will never never never be on Apple" — the 38-year-old rapper appears to have changed his tune. On Monday, The Life of Pablo track featuring fellow artist Rihanna, "Famous," was released on Apple Music, Google Play, and Spotify, thereby ending the album's exclusivity on TIDAL and certainly flip-flopping on his previous stance about Apple Music. On Wednesday, "I Love Kanye," a self-aware "bonkers" interlude, was made available on Apple Music and Spotify — as of this writing, it is not available yet on Google Play.
TIDAL also released streaming statistics for West's seventh album, revealing an impressive debut on the nascent streaming service. According to TIDAL, The Life of Pablo was streamed more than 250 million times in just the first 10 days of its release. The company, which is owned by 20 artist-owners including Jay Z, Madonna, and most recently, T.I., also announced that TIDAL has over 3 million subscribers since it launched in March of last year, up from just under a million subscribers in June.
"I Love Kanye" is available on SoundCloud as well. The German-based music streaming service recently announced that it was introducing a paid subscription service, not unlike its Spotify and Apple Music competitors. Dubbed SoundCloudGo, the $9.99 a month subscription fee provides ad-free streaming and the ability to sync offline, as well as access to notable artists. Over the weekend, West himself even released "Ultralight Prayer" — a new track exclusive to SoundCloud. The track is a "reworking" of "Ultralight Beam" on The Life of Pablo, just one of many examples of West tinkering with his latest studio album well after its official release.
There has been no official word regarding when and where the rest of the tracks from The Life of Pablo will be made available online for streaming. But, if "Famous" and "I Love Kanye" are any indication, it appears as though Kanye fans won't be bound to TIDAL to stream his latest album after all.