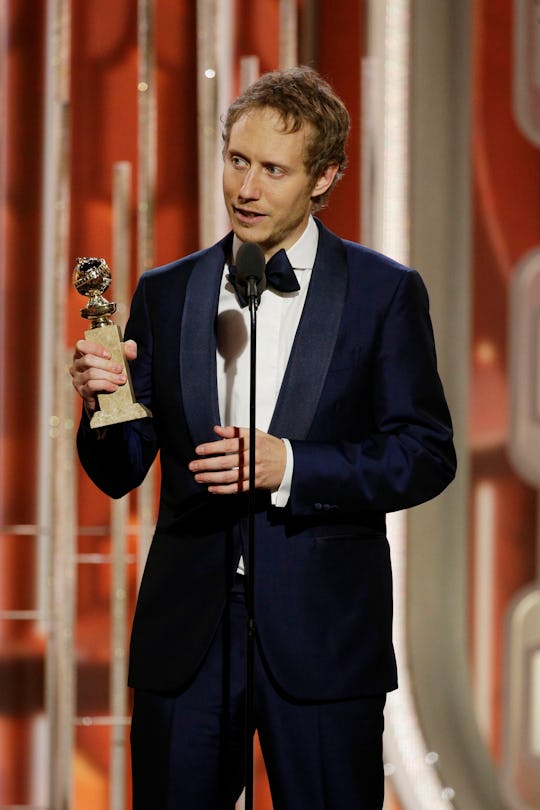 Where Can You Watch 'Son Of Saul,' The Best Foreign Film Golden Globe Winner? It's Tough To Find
Don't feel bad. When it comes to award shows, the hardest category to predict a winner for is the foreign film category. Now that the cat's out of the bag, the bigger question remains: Where can you watch Son of Saul, the Golden Globe winner of Best Foreign Film? Son of Saul is a film from Hungary, and on Sunday night, László Nemes, the screenwriter and director, accepted the Golden Globe on Sunday night with a beautifully heartfelt and moving acceptance speech. The film is "tense, almost unbearable thriller set in Auschwitz in 1944," according to The Guardian.
Helen Mirren was super excited to present the award, namely because no film from Hungary has ever won a Golden Globe. That's kind of a big deal. Also nominated for Best Foreign Film this year at the Globes were The Brand New Testament (Belgium/France/Luxembourg), The Club (Chile), The Fencer (Finland/Germany/Estonia), and Mustang (France).
The bad news is that all of these films, including this year's winner, are hard to find online right now. If you're in a big city, you'll probably be able to find Son of Saul and the rest of the nominations playing in smaller, more independent theaters. In New York City, most of the nominations have done short runs at various theaters. But then, that's New York City.
Because they were all popular films in their home countries, you can track down each of the films online at various streaming sites — but that's kind of illegal and you have to wait for it buffer. Life is tough once you're used to Netflix. If you can't watch them online, you'll have to wait a bit until the nominees and winner are picked up by a major, legal, streaming sites for North American audiences.
If it makes you feel any better, last year's Best Foreign Film winner, Leviathan, started showing in theaters a few months after the awards, so you shouldn't have to wait too long.
Leviathan, a Russian film directed by Andrey Zvyagintsev, was a about a man living in a small fishing village with his wife and a son from a another marriage — in other words, a totally different kind of story than this year's winner which is set in Auschwitz, following those who had to work in the gas chambers. It's a Holocaust story, a thriller, and according to review, pretty gruesome. But still super good. (And yes, you should definitely check it out.)
The bottom line? Don't freak if you haven't seen Sunday's Best Foreign Film winner. Almost no one has. But chances are you will soon.
Image:Handout/Getty Images