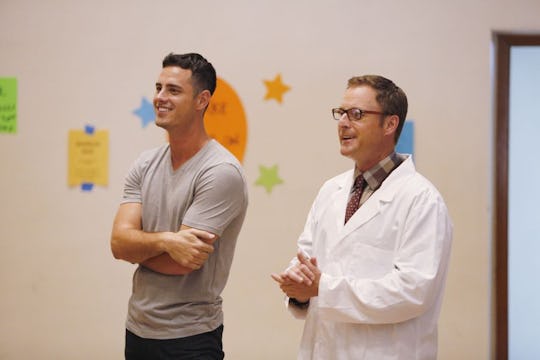 ABC/Greg Zabilski
Where Did Ben Higgins Go To High School? The 'Bachelor' Star Has A Lot Of Supporters Back Home
In this week's episode of The Bachelor, the contestants got schooled — literally. While both Bachelor Ben Higgins and the contestants spent their first official day together conducting a variety of science experiments and trying to find Ben's home state of Indiana on a map (yikes), the girls also ended up bobbing for apples in fish tanks at one point (because that's definitely an important educational activity, right?). All of this begs the question: Where exactly did Ben Higgins go to high school and does he really remember anything about it?
Ben may be a major heartthrob on the ABC reality hit, but in his hometown of Winona Lake, Indiana, he's still remembered best as the local high school football star. According to Fort Wayne CBS affiliate WANE-TV, Ben first became Warsaw High School's starting quarterback in 2007, before ultimately leading the Tigers to a 7-5 record.... Go Ben!
In an interview with The Indianapolis Star in December, Ben's coach and teammates recalled the Bachelor star as a particularly big sweetheart (okay, they didn't use those words, but still). "Above all else ... he's a very humble guy," Troy Akers, Higgins' high school football coach and family friend, told the paper. "He is the kind of kid, I just can't see him ever losing his head."
Ben's friends and classmates added that the idea of the hometown, Christian kid as a reality TV star was a bit jarring, but nonetheless exciting, given his reputation as a community leader and humanitarian (the 27-year-old recently spent time as a volunteer in Honduras where he helped out with a myriad of local community causes). "It still seems really bizarre," Akers told The Star, "to think of Ben as 'The Bachelor.'"
Alright, so maybe Ben is just a shy, small-town boy — but that's still no excuse for not knowing that bobbing for apples isn't on the SATs.
Images: ABC/Greg Zabilski (2)