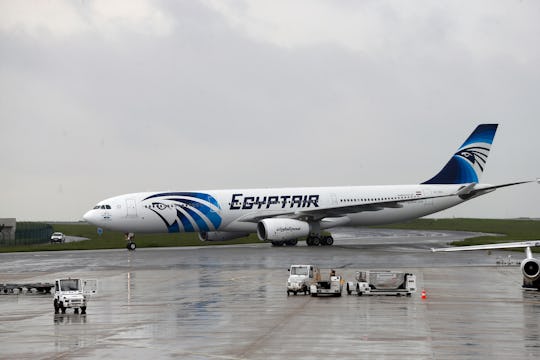 THOMAS SAMSON/AFP/Getty Images
Where Did EgyptAir Flight MS804 Crash? It Was Closing In On Its Destination
Officials haven't ruled out terrorism as the cause of the crash of EgyptAir Flight MS804, which was in route from Paris Charles de Gaulle airport to Cairo, Egypt, with 56 passengers and 10 crew on board, a total of 66 people. Currently, there is a search underway for wreckage, now that the general area of the crash has been pinpointed. Where did Egypt Air flight MS804 crash? It was just 10 miles into Egyptian airspace.
The Telegraph spoke to Greek sources at the airport who say the plane crashed just off the Greek Island of Karpathos. A source for The Guardian has confirmed the plane came down 130 nautical miles off the island.
Greece's defense minister Panos Kammenos held a press conference on the crash where he explained what investigators know about EgyptAir flight MS804 based on its final moments on radar. Just after entering Egyptian air space, he said the plane made "sudden swerves," turning 90 degrees to the right, then 360 degrees to the right, plunged 9,000 feet and disappeared from radar. Apparently, there was no SOS message sent, The Telegraph reported. Two hours after losing radio contact, EgyptAir told The Guardian it received a signal from the plane, likely sent by the plane's emergency systems.
Here's a map of the flight route between Paris and Cairo for EgyptAir flight MS804.
Both France and Egypt have experienced recent terror attacks that are leaving many to speculate the crash was terror related. Just last December, many airport workers in Paris were found to have direct links to Islamic terrorists despite their security clearance. The entire country of France has been in a state of emergency since last November's terrorist attacks, and, just a few days ago, France's top intelligence official, Patrick Calvar, warned that France in danger of coming under a "new form of attack" from Islamic terrorists where explosives are stashed in areas where people gather, according to The Telegraph.
Needless to say, everyone is on edge that this could turn out to be another terrorist attack, sending shock waves and fresh calls for right-wing policies blocking the immigration of Muslims and refugees.
Here's another look at the probable crash site location off the island of Karpathos.
According to reports from 7 News Sydney, residents of Karpathos reported seeing "a ball of fire" in the sky around the same time the EgyptAir flight disappeared.
In the meantime, relatives of the passengers are gathering and being given little hope and less specifics about what happened to their loved ones. There were no Americans on board the flight.
A rescue effort is currently underway at sea to find the missing plane.