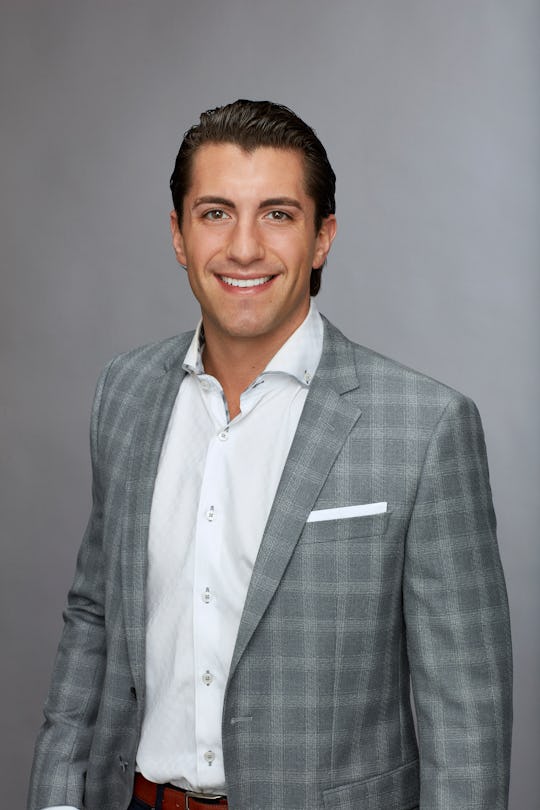 Craig Sjodin/ABC
Jason From 'The Bachelorette' Has A *Lot* Of Hometown Pride
I can't imagine how both exciting and terrifying Bachelorette hometown dates are for contestants. They're at the final four, but now there's even more pressure. Becca will learn a lot more about their pasts with questions like, where did Jason go to college? The Bachelorette contestant is now an MBA working in Seattle, but he originally hails from Buffalo, New York.
Jason's LinkedIn says he attended the State University of New York College at Geneseo from 2006 to 2010, where he received his BS of Business Administration. Geneseo is around an hour and fifteen minute drive to Buffalo, so he wasn't too far from home. Right after graduation, however, Jason made a cross-country move to Seattle where he started working at Key Corporate and Commercial Bank. While he's been employed there since his undergrad education, Jason worked to receive his MBA from 2013 to 2016. He attended the Simon Business School at the University of Rochester and specialized in accounting and finance.
According to his ABC biography, Jason is "a successful banker with a heart of gold. When Jason's not rooting for his hometown Buffalo Bills, he's belting out tunes from his favorite Disney movies. He's hoping to sing his way into the Bachelorette's heart."
Well, I haven't heard him sing yet, but he' surely making his way into Becca's heart. Jason is the dark horse this season; I surely didn't think he's made it to hometowns, especially considering that Becca forgot Jason's name during the spa group date in episode three. Jason handled that with grace, though, which probably endeared him to Becca even more.
Jason and Becca had an apparent connection in later episodes, but it became most apparent during their first one-on-one date in Richmond, Virginia. They went to see Richmond museums, and then a donut shop, and then a goth "unhappy hour" — and they looked like they had a lot of fun together. According to Reality Steve on the Bachelor Party podcast, the date was supposed to be white-water rafting but it got rained out, hence the very "rainy day activities" vibe of the date. It still went well for Jason and Becca, though, and the highlight was actually when Becca surprised Jason with three of his friends from Buffalo.
Jason's friends only had nice things to say about him, which was adorable and I bet a precursor to his hometown date. On Instagram, Jason posted a photo of him and Becca and explained why he loves Buffalo so much. "For the majority who aren't from Buffalo, I apologize if my enthusiasm and continuous reference to the city is overzealous! That said, I hope the pride that I have for my city resonates with the pride you have for yours," he said. "I am so honored and excited to showcase Buffalo, NY, to [Becca] on [The Bachelorette]. If you have as much pride as I have for Buffalo, let me know where your hometown is [because] I'm coming to freaking visit!"
That's really sweet, and shows that he definitely cares for Buffalo despite living thousands of miles away now. I'm excited to see Jason not only show Becca around the sites of Buffalo, but to meet his family and (even more) friends. Hometown dates seem pretty stressful because some parents aren't on board with their children finding love on television. It's a pretty unconventional way to find love so who could blame them? But considering Becca and Jason's connection, I hope his family sees beyond the cameras and can tell she's serious about finding love, especially after Arie. All I know is, Jason has successfully made me excited about seeing Buffalo on my TV on Monday.