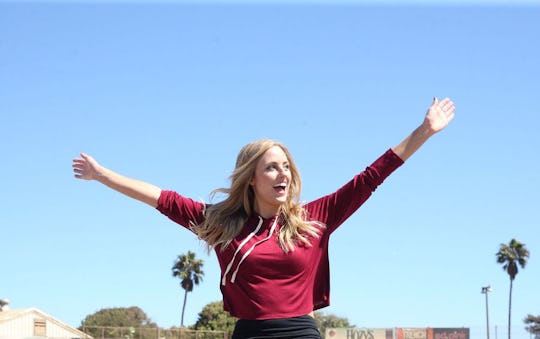 ABC
Kendall's Career Before 'The Bachelor' Is Largely In Thanks To Her Alma Mater
This week, Kendall and Krystal are going on a two-on-one date with Arie and it's bound to be packed with drama. It's an interesting matchup, since it shows that the Bachelor is still interested in Krystal after she stirred the pot last week and also doesn't mind Kendall's love of taxidermy. We already know a lot about Krystal, but what else can we learn about Kendall aside from her love of stuffed, dead animals? Where did Kendall from The Bachelor go to school, for example? She has a pretty interesting background.
According to her LinkedIn profile, Kendall is also a set dresser, which means that she finds and arranges props on TV shows and movies. Like, for example, on The Bachelor when there are set ups for the date night, she would theoretically be the one to pick out the pillows and arrange the romantic settings. She's worked on MTV's Ridiculousness and also set the scene for the Kardashian 10 Year Special on E!, too. So she knows what she's doing. Her profile also says that she's the Creative Director at WhoHaHa in Los Angeles.
To earn those gigs, Kendall studied at the Academy of Art University in San Francisco. Founded in 1929, it has a reputation for innovative art and media programs, and offers degrees in music production, fine art, graphic design, animation, and yes, interior design, which is what Kendall studied. They focus a lot on real world experience and learning from professionals, so she likely got into set dressing because of it.
So she's pretty smart and ambitious — you have to be to go to an art school and then earn a living. It takes some scrappiness, which should come in handy when dealing with Krystal this week.
According to ABC, the two-on-one date is going to be very, very intense. The network writes that "Krystal and Kendall face off during the two-on-one date that ends with a romantic kiss at the top of the Eiffel Tower for one woman." It goes on to say:
Arie takes Krystal and Kendall to a beautiful chateau for their feared two-on-one date. The women argue and then at dinner, Arie makes a dramatic choice and takes the lucky bachelorette to the top of the Eiffel Tower where the two kiss while the other woman is left to wonder what went wrong.
Oh man, it's not an actual swamp in the middle of nowhere, but being left in a swamp of tourists in what is largely defined as the most romantic city in the world? That's going to hurt.
It's interesting that they chose Kendall, since she hasn't been on Krystal as much as some of the other women have throughout the season, like say, Bekah. But Kendall did tell Krystal that her meltdown after bowling was a little much, so they definitely don't get along. (Does anyone hang out with Krystal?) If Kendall can eat a worm, she can totally handle some drama.
If Arie chooses Krystal after seeing her behavior with the others, my head will implode. The other women will not be pleased either, for sure. It's a toss up with the "villains," usually on the two-on-one dates. They often get left behind after showing their true colors by bickering with someone else and making things awkward AF for the Bachelor. But Arie's hard to read, so this could really go any way.
Judging from her social media accounts, Kendall has a twin sister named Kylie (hilarious), a huge squad of friends she travels with, and obviously a pretty interesting career. Along with her various hobbies, like taxidermy and playing the ukulele. So even if Arie does leave her abruptly under the Eiffel Tower, she's just the woman to make the best of it and have a good time anyway. But I'm rooting for her. Think about it: With her degree and experience, she can help Arie stage the houses he sells. It's a perfect match.
Check out Romper's new video series, Romper's Doula Diaries:
Watch full episodes of Romper's Doula Diaries on Facebook Watch.