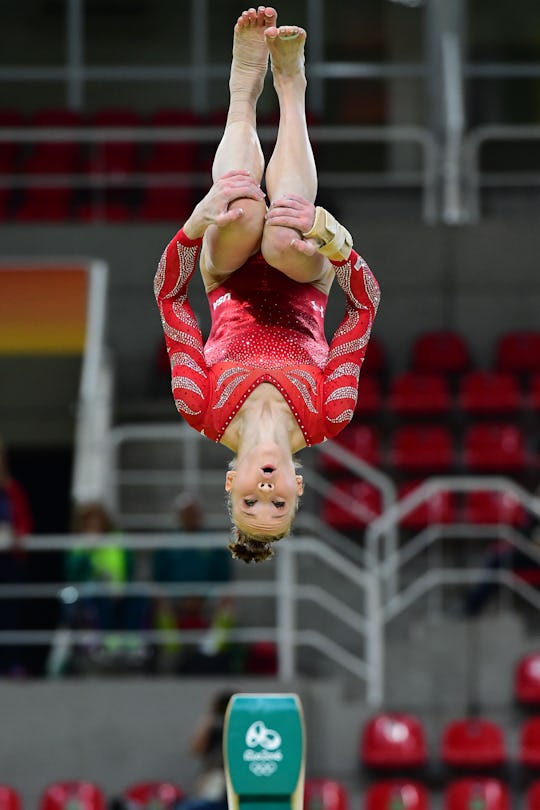 EMMANUEL DUNAND/AFP/Getty Images
Where Did Madison Kocian Grow Up? She's Loyal To Her Hometown
Gymnastics is probably... strike that, it's definitely my favorite Olympic sport to watch. Considering that I can barely touch my toes, there's something magical about watching people fly into the air and swing majestically over beams. This year's Olympics is going to be a good one for gymnastics, too, with newcoming Olympian gymnast Madison Kocian bringing some serious uneven-bar game to Rio. Those who don't know the 19-year-old's face or name yet might be wondering about her path to the Olympics. Where was she born, and where did Kocian grow up? When did she start practicing gymnastics, and how did she make it to Rio this year?
According to her Olympic profile, Kocian was born and raised in Dallas, Texas, in 1997, and she's proud of her hometown, calling herself in one Instagram throwback "forever a Rangers girl." Kocian's gymnastic story began early — very early, according to NBC. After Kocian's mother found her climbing her crib bars early on, she decided to enroll her daughter in gymnastics, and Kocian had her fifth birthday at a local gym. "I loved hanging on bars and using my strength to do pullovers when I was young," she told NBC. And since the very beginning, uneven bars were her favorite challenge to tackle.
Her young start helped her, but Kocian still encountered plenty of roadblocks. At 15, already well on her way to a professional gymnastics career, Kocian broke her wrist and had to stay away from training for three months. The injury healed, but in early 2014, the pain came back. "My only option was surgery," she told NBC. "I had a big decision to make. The surgery would put me out for about 5 months, which would most likely cause me to miss the season. I had a goal in my mind to make the 2014 World Championships Team and win the team gold [medal] for USA, so I decided with my parents and coaches to delay the surgery."
Kocian went on to win the team gold medal in the 2014 World Championships. After surgery, she returned only to win gold again with the women's team in 2015, at which point she also individually tied for a gold medal on the uneven bars.
But about six months before the Olympics in Rio, Kocian suffered another setback — fracturing her tibia and leaving her unable to walk for six weeks, according to Cosmopolitan. Yet she was back on her feet and qualified at the Olympic trials, earning the highest bars score and securing her spot as one of five American women to compete in Olympic gymnastics this year.
As the Olympics kick off, this Dallas native will be one to watch. She's strong, confident, and brings the United States women's team a specialty in uneven bars that they've missed in the past. "I'll be ready for everything this summer," she told Team USA in June — and so far, she's lived up to her promise.