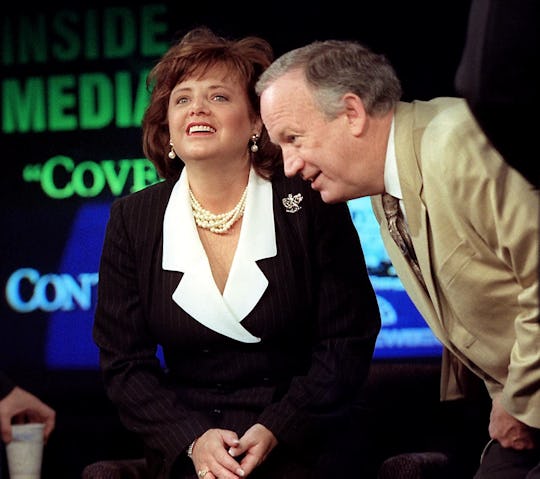 MARIO TAMA/AFP/Getty Images
Where Did Patsy & John Ramsey Go To College? JonBenet's Parents Went To Big State Schools
CBS is getting ready to premiere its new true crime docu-series The Case Of: JonBenét Ramsey, which focuses on the 1996 murder of a 6-year-old girl that created a media firestorm. The investigation following Ramsey's death drew national attention and unfolded in the public eye. America followed along as detectives interrogated suspects, including JonBenét's own family members, none of whom were ever charged with a crime in connection to her death. Now that the mysterious, unsolved case is being reexamined in the new docu-series, the curiosity surrounding JonBenét's tragic death has returned. It's not just JonBenét that people are curious about, either. Her surviving family members, including her parents and older brother, have remained relatively private over the last two decades. Life in the Ramsey family before the loss of JonBenét was not examined the way the aftermath of her death was. It seems, though, that they were just another normal family. John and Patsy Ramsey both went to big state schools, got married, and planned to raise their children in Boulder, Colorado, before the unthinkable happened.
John Bennett Ramsey grew up in Okemos, Michigan and went on to attend the state's beloved Michigan State University. It was there that he met his first wife, Lucinda. Ramsey and Lucinda had three children together — Elizabeth, Melinda, and John — before divorcing in 1977. Their eldest daughter unfortunately passed away in a car accident when she was 22.
Like her husband, Patsy Ramsey also attended a state school, attending college in the same state in which she had grown up. She graduated from Parkersburg High School in 1975 and then continued her education at West Virginia University. Patsy was an active part of student life, joining Alpha Xi Delta sorority, and even won the Miss West Virginia beauty pageant title before receiving her bachelor's degree in journalism in 1978.
Patsy went on to meet her husband, John, and marry him when she was just 23 years old. The couple went on to have two children together. Their son Burke was born on Jan. 27, 1987, and, just three years later, Burke became a big brother to younger sister JonBenét.
The Ramsey family lived together for six years before JonBenét's tragic death. They became a tabloid sensation and subject of many conspiracy theories after that horrible December night. Before that, though, it seems that the Ramseys were a family much like any other — one that would go on to battle public backlash and come out the other side shaken, but still strong.