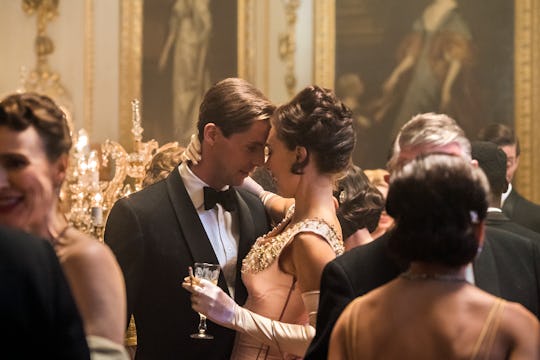 Alex Bailey/Netflix
Princess Margaret Pulled Out All The Stops For Her Wedding
Queen Elizabeth II may be the star of The Crown, but her sister Princess Margaret has by far the most interesting love life. The princess was engaged to Captain Peter Townsend in the first season, though that engagement was broken off. So when it came to her love affair with photographer Antony Armstrong-Jones, nothing was going to stay in her way — and nothing did. But where did Princess Margaret and Tony get married in real life? While it would have been in keeping with their personalities to elope, that is not how this love story played out. Warning: spoilers for Episode 6 ahead!
The show detailed Princess Margaret and Tony's affair, starting with their accidental meeting at a party Margaret attended with her lady-in-waiting. In real life, the affair went on in secret for months, with the public completely unaware that it even happening until their engagement was announced in February. The couple was married at Westminster Abbey in the first royal wedding ever to be broadcast on television along with a congregation of 2,000 of their closest friends and family members. Margaret wore a simple but amazingly chic wedding dress and her favorite tiara. Tony became the Earl of Snowdon, and was known as Lord Snowdon from there on out.
Though it seemed like Margaret had finally found her happy-ever-after, the marriage was not destined to last. In fact some of the more salacious aspects of Mr. Armstrong-Jones depicted in the show are reportedly all-too true. It was widely rumored that he was bisexual, a rumor he refused to deny, though he never openly discussed any male lovers. He was, however, quite open about his various female paramours. One of his most famous lovers was the dancer and model Jacqui Chan, depicted in the show. He did also father a child by Camilla Fry, the wife of his best friend and proposed Best Man, Jeremy Fry. As to whether Queen Elizabeth knew about all of this before the marriage, as is depicted in the show, there is no actual evidence.
The series also depicts a scene of Margaret and Tony in bed together, talking about their plans for the wedding, suggesting to elope in Gretna Green like a Jane Austen character or perhaps run off to Las Vegas. They decide to marry at "the Abbey" in a traditional and flashy display that will "eclipse" Margaret's sister. This, it turns out, is precisely what they did, with 20 million viewers tuning in to watch them get married on TV. They then embarked on a six-week honeymoon which I think should be the average for honeymoons, don't you?
The marriage, sadly, did not last. Both Tony and Margaret allegedly had extramarital affairs throughout their marriage and finally decided to divorce in 1978 — the first royal divorce since Henry VIII in 1540. However that does not mean there was any bitterness or ill feeling after their separation. The couple remained good friends throughout the rest of their lives until Margaret died in 2002.
In the show, Margaret insists to her sister that she wants to marry Tony because he's shown her who she is — a woman in her own right. Even though the romantic relationship did not last, perhaps it is indeed true that they truly understood one another, as evidenced by their cordial relationship throughout the rest of their lives. You can never really know what it's like on the inside of anyone else's relationship, but I like to believe that at least this one ended with respect and friendship.
Check out Romper's new video series, Romper's Doula Diaries:
Watch full episodes of Romper's Doula Diaries on Facebook Watch.